The Captain And Me & What Were Once Vices
The Doobie Brothers
The Captain And Me & What Were Once Vices
The Doobie Brothers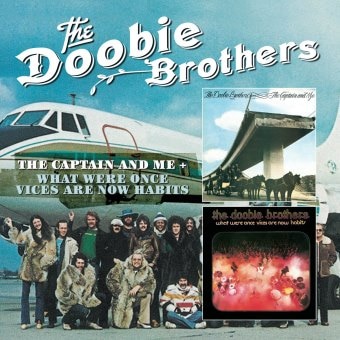 Release information
Release information
Label: Edsel
• Format:
• Date: 29/08/2011
Cat#: EDSD2105
• Barcode: 740155210533
• Genre: Pop, Rock
Track Listing
Natural Thing
Long Train Runnin'
China Grove
Dark Eyed Cajun Woman
Clear As The Driven Snow
Without You
South City Midnight Lady
Evil Woman
Busted Down Around O'Connelly Corners
Ukiah
The Captain And Me
Long Train Runnin' (Sure Is Pure mix)
Long Train Runnin' (Full Guitar mix)
Long Train Runnin' (Done On A Shoestring mix)
Song To See You Through
Spirit
Pursuit On 53rd Street
Black Water
Eyes Of Silver
Road Angel
You Just Can't Stop It
Tell Me What You Want (And I'll Give You What You Need)
Down In The Track
Another Park, Another Sunday
Daughters Of The Sea
Flying Cloud
About this release
The Doobie Brothers were one of the most commercially-successful bands of the 1970s, charting albums and singles around the world, with songs that are radio staples to this day. With principal songwriters Tom Johnston and Patrick Simmons, the band incorporated an amazing array of musical styles, from rock to R&B, via country and folk.
This coupling of their third and fourth Warner Brothers albums is continues the Edsel series of reissue packages. "The Captain And Me" (1973) includes two huge hits in "China Grove" and "Long Train Runnin'", and the bonus tracks are the three 90s 12" remixes of "Long Train Runnin'" that reached # 7 in the UK charts in 1993.
"What Were Once Vices Are Now Habits" includes "Another Park, Another Sunday" and the US # 1 "Black Water".
The 24 page booklet features all the lyrics and musician credits, photos and annotation by Alan Robinson.