The Cadence Recordings
The Everly Brothers
The Cadence Recordings
The Everly Brothers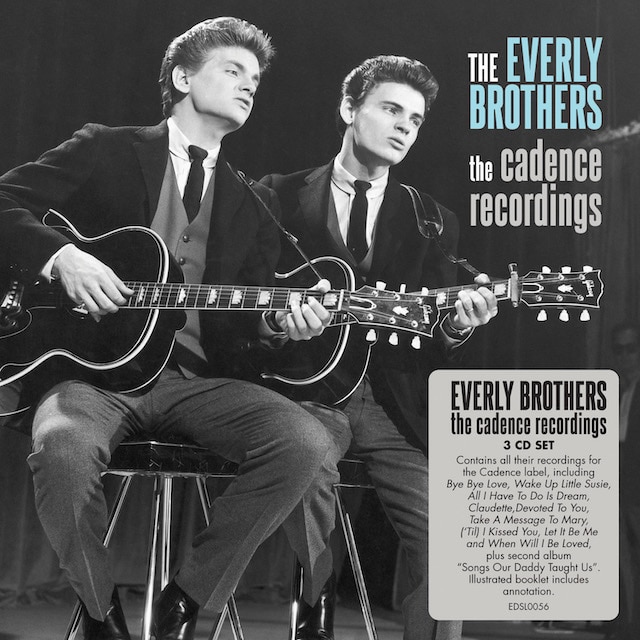 Release information
Release information
Label: Edsel
• Format: CD
• Date: 28/02/2020
Cat#: EDSL0056
• Barcode: 740155725631
• Genre: Country, Rock
Track Listing
This Little Girl Of Mine
Maybe Tomorrow
Bye Bye Love
Brand New Heartache
Keep A Knockin'
Be-Bop-A-Lula
Rip It Up
I Wonder If I Care As Much
Wake Up Little Susie
Leave My Woman Alone
Should We Tell Him
Hey Doll Baby
Roving Gambler
Down In The Willow Garden
Long Time Gone
Lightning Express
That Silver Haired Daddy Of Mine
Who's Gonna Shoe Your Pretty Little Feet
Barbara Allen
Oh So Many Years
I'm Here To Get My Baby Out Of Jail
Rockin' Alone (In An Old Rockin' Chair)
Kentucky
Put My Little Shoes Away
All I Have To Do Is Dream
Claudette
Bird Dog
Devoted To You
Problems
Love Of My Life
Take A Message To Mary
Poor Jenny (Ten O'Clock version)
('Til) I Kissed You
Oh, What A Feeling
Let It Be Me
Since You Broke My Heart
When Will I Be Loved
Like Strangers
Give Me A Future
Life Ain't Worth Living
Should We Tell Him [different version]
Sally Sunshine
You Can Bet
I Can't Recall
Wishing Won't Make It So
Poor Jenny (One O'Clock version)
Oh, True Love
About this release
The blending of Don and Phil Everly's voices is truly one of the great sounds of post-war American popular music. Derived from Folk and traditional styles brought to the USA via immigrant communities, their seamless vocal harmonies had its precursors in mid-twentieth century duo / family Country music acts such as the Louvin Brothers, Delmore Brothers and many others. The Everlys, however, were able to bring the fraternal harmony approach into the mainstream pop market of the late 1950s by dint of their youth, good looks, and that other, far more elusive quality – timing.
Alongside the other breakthrough acts of rock and roll's first wave, they were true musical frontiersmen that helped set the template for all that was to succeed them. The likes of The Beatles, The Hollies, Simon & Garfunkel, The Byrds, Flying Burrito Brothers, Bob Dylan, Elvis Costello, Nick Lowe, Emmylou Harris, through to Billy Joe Armstrong (of Green Day) and Norah Jones are but a few of the notables whose music bears the Everlys influential thumbprint.
This 3 CD box set contains everything they recorded for the Cadence label in Nashville, from 1957 until they signed to the Warner Bros in 1960, including eleven huge hit singles. In a facsimile of the original LP sleeve (including the liner note),
CD 1 contains their first album: "The Everly Brothers" features the singles "Bye Bye Love" (US # 2, UK # 6) and "Wake Up Little Susie" (US # 1. UK # 2).
CD 2 is a reproduction of their second album, "Songs Our Daddy Taught Us", a daring release at the time, containing what the title describes – an intriguing set of American songs from the first half of the 20th century.
CD 3 collects the A- and B-sides of the rest of their singles for Cadence, including "All I Have To Do Is Dream", "Claudette", "Bird Dog", "Devoted To You", "Take A Message To Mary", "('Til) I Kissed You", "Let It Be Me" and "When Will I Be Loved". These are followed by nine rarities, including several demos.
The booklet is comprehensively annotated by Alan Robinson.