The Bluetones: Superior Quality Recordings, 2003 – 2010 (Signed Edition)
The Bluetones
The Bluetones: Superior Quality Recordings, 2003 – 2010 (Signed Edition)
The Bluetones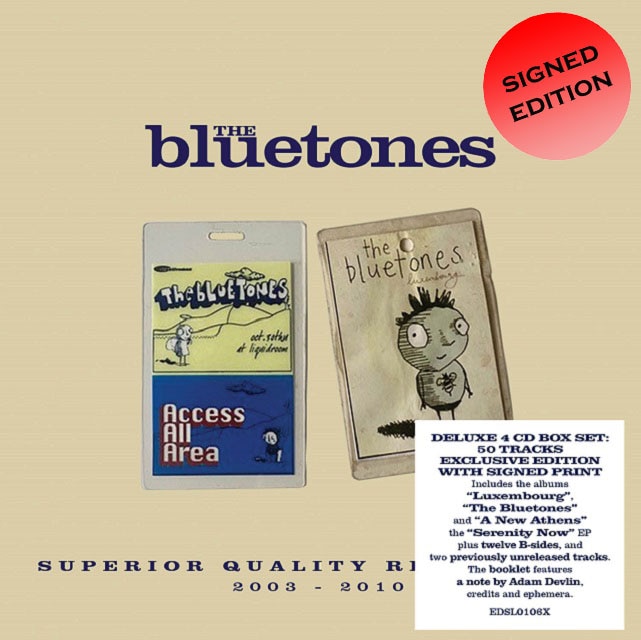 Release information
Release information
Label: Edsel
• Format: CD
• Date: 12/08/2022
Cat#: EDSL0106X
• Barcode: 5014797907256
• Genre: Alternative, Indie
Sub Genre: Britpop
Track Listing
Here It Comes Again
Fast Boy
Liquid Lips
You're No Fun Anymore
Big Problem
I Love The City
Never Going Nowhere
Little Bear
Code Blue
Turn It Up
Beat On The Brat
Move Closer
Suffer In Silence
Never Going Nowhere [69Corp Vs The Bluetones]
Pram Face
Choogie Monbassa
Surrendered
Baby, Back Up
Hope And Jump
Head On A Spike
The King Of Outer Space
Thank You, Not Today
My Neighbour's House
Fade In / Fade Out
The Last Song But One
Wasn't I Right About You?
The Notes Between The Notes Between The Notes
Firefly
A New Athens
Culling Song
Into The Red
Golden Soul
The Day That Never Was
Carry Me Home
Half The Size Of Nothing
Haunted By You
Pranchestonelle
Hey Shmoopey [hidden track]
The Notes Between The Notes Between The Notes [long version]
I Like To Lie
About this release
LIMITED EDITION – contains print signed by all four band members
Hailing from Heston in West London, The Bluetones (Scott Morriss – bass, Eds Chesters – drums, Adam Devlin – guitars, and Mark Morriss – vocals) arrived on the scene in late 1995/early 1996 with the # 2 single "Slight Return", and # 1 debut album "Expecting To Fly". This album and the following two were included in Edsel's 2021 box set, containing the band's recordings from 1994 to 2002.
This second box set contains The Bluetones' second period of recordings, from 2003 to 2010: 50 tracks across four CDs. It includes the albums "Luxembourg" (2003), "The Bluetones" (2006) and "A New Athens" (2010), plus the "Serenity Now" EP (2005), twelve B-sides, and two previously unreleased tracks.
The four CDs are presented in facsimile wallets, and the 24 page booklet features newly-written notes by Adam Devlin on each album and the EP, along with all the credits, and the singles sleeves featuring Scott Morriss's fabulous artwork.