The Blanco y Negro Years
Eddi Reader
The Blanco y Negro Years
Eddi Reader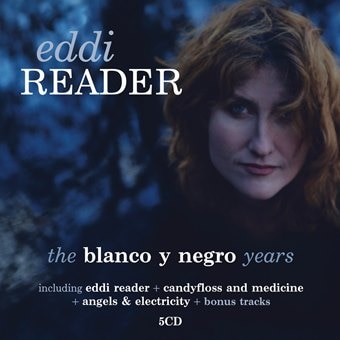 Release information
Release information
Label: Edsel
• Format: CD
• Date: 15/06/2015
Cat#: EDSB4024
• Barcode: 740155402433
• Genre: Pop, Rock
Track Listing
The Right Place
Patience Of Angels
Dear John
Scarecrow
East Of Us
Joke (I'm Laughing)
The Exception
Red Face Big Sky
Howling In Ojai
When I Watch You Sleeping
Wonderful Lie
Siren
Shirt And Comb
Saturday Night
Wonderboy
Three Crosses
Go And Sit Upon The Grass
Battersea Moon
When I Watch You Sleeping [demo version]
What You Do With What You've Got
That's Fair
Nobody Lives Without Love
Glasgow Star
Town Without Pity
Medicine
Rebel Angel
Semi-Precious
Lazy Heart
I Loved A Lad
Butterfly Jar
Candyfloss
Darkhouse
Leave The Light On
Shall I Be Mother
If You've Got A Minute, Baby
Sex Lives
Earlies
Sugar On The Pill
Nameless
John Anderson My Joe
Green Grow The Rashes
Who Knows Where The Time Goes
[Jools Holland & Eddi Reader & The Rhythm & Blues Orchestra]
Kiteflyer's Hill
Prayer Wheel
Postcard
Wings On My Heels
On A Whim
Hummingbird
Barcelona Window
Bell, Book And Candle
California
Follow My Tears
Psychic Reader
Please Don't Ask Me To Dance
Clear
Homesick Son
St. Christopher
Buckets Of Rain
About this release
After two albums with Fairground Attraction and a solo album, Eddi Reader signed with Geoff Travis' Blanco y Negro label and recorded the three albums in this box between 1994 and 1998.
Collaborating with Fairground Attraction's Mark Nevin and The Bible's Boo Hewerdine on Top 5 album Eddi Reader produced the singles "Patience Of Angels" and "Joke (I'm Laughing)", and won Eddi the 'Best Female Singer' Brit Award for 1994. Candyfloss And Medicine and Angels & Electricity contained songs co-written with keyboard player/co-producer Teddy Borowiecki as well as more songs by Hewerdine.
The two bonus CDs contain the many non-album singles b-sides, including covers of songs by Paul Buchanan (of The Blue Nile), Ray Davies, Ivor Cutler and the Trash Can Sinatras, as a well as a collaboration with Jools Holland and his orchestra. The booklet contains all the credits and lyrics, and brand new annotation by Colin Irwin.
CD1 – Eddi Reader
CD2 – Bonus Tracks
CD3 – Candyfloss & Medicine
CD4 – Bonus Tracks
CD5 – Angels & Electricity