The Albums Volume 2 (N – Z)
UK Subs
The Albums Volume 2 (N – Z)
UK Subs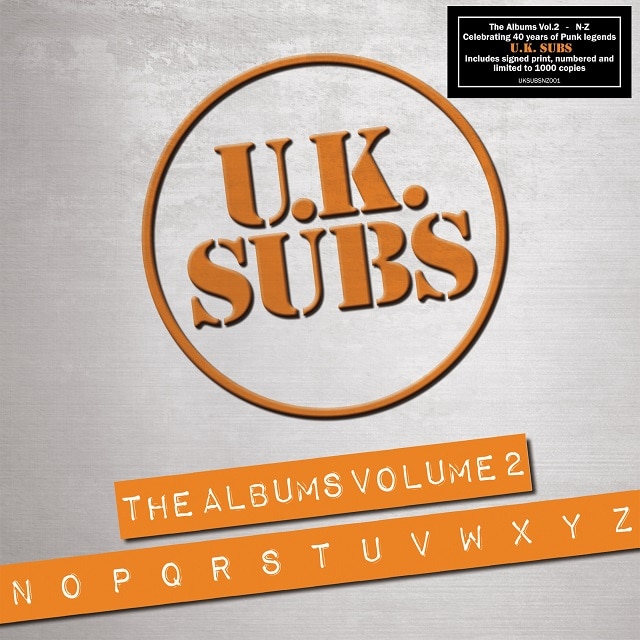 Release information
Release information
Label: Edsel
• Format: CD
• Date: 03/08/2018
Cat#: UKSUBSNZ001
• Barcode: 5014797897731
• Genre: Rock
Sub Genre: Punk
Track Listing
Dumfux
Killertime
Jodie Foster
Here Comes Alex
Ozone Death
Strangeways
Joyride
Believe In Yourself
Down On The Farm
Mohawk Radio
Brixton
Reaper
All The People
Squat The World
Lydia
Bailiffs
Space Patrol
Lets Get Drunk
Shove It
DF 118
Solutions
Public Address
Revolving Boys
One Of The Girls
Darkness
Not So Secret Wars
Infidel
MPRI
Nazi C**ts
God Bless Amerikkka
Y.D.M.S.
The Great Northern Disaster
Ode To Completion
I Couldn't Be You
Tomorrow's Girls
Disease
C.I.D.
Stranglehold
World War
TV Blues
Another Kind Of Blues
All I Wanna Know
Totters
Killer
Crash Course
Lady Esquire
I.O.D.
Emotional Blackmail
Jump On It
Your Ego
War On The Pentagon part 1 & 2
Quintessentials
State Of Alert
The Day Of The Dead
AK47
Media Man
Mouth On A Stick
Outside Society
Bitter & Twisted
Accident Prone
Killer Cops
Psychosis
Squat 96
Dunblane
Cyberjunk
Rebel Radio
Power Corrupts
Preacher
Riot
Chemical War
Paradise Burning
House Of Cards
Human Rights
Guilty Man
Lost Not Found
Music For The Deaf
Beggars & Bums
My Little Red Book
Flat Earth Society
Police State
Speak For Yourself
Self Destruct
Captain Scarlet
Thunderbird Wine
Hey Santa
Another Cuba (New Version)
Down On The Farm
Another Typical City
Planet I
Drag Me Down
Here Comes Alex
Ozone Death
Strangeways
DF 118
Solutions
Outside Society
Bitter & Twisted
Squat `96
Riot
Endangered Species
New York State Police
Time & Matter
Countdown
Tomorrow's Girls
Emotional Blackmail
Crash Course
Organized Crime
Warhead
Confrontation
C.I.D.
Party In Paris
I Live In A Car
Down On The Farm
Stranglehold
Limo Life
Last Man Standing
Soho
Spoils Of War
3rd World England
Universal
Hollywood
The Dark
Fragile
White Lie
Don't Blame Islam
Cross Fire
Papers Lie
Custody
Devolution
On My Way
Livin' Dead
Squat 96
Emotional Blackmail
Cyberjunk
State Of Alert
Mouth On A Stick
New York State Police
Organised Crime
Quintessentials
Works
Sensitive Boys
Ice Age
Crash Course
Tomorrow's Girls
Warhead
Riot
Stranglehold
I Couldn't Be You
Limo Life
Punk Rock Ist Nict Tot
Creation
Tokyo Rose
Hell Is Other People
The Axe
Radio Unfriendly
This Chaos
Guru
Eighteen Wheels
Children Of The Flood
All Blurs Into One
Blood
Rock N Roll Whore
Strychnine
Robot Age
Implosion 77
Coalition Government Blues
Speed
Rabid
Monkeys
Black Power Salute
Las Vegas Wedding
Stare At The Sun
Garden Of Good And Evil
Workers Revolution
Wreckin' Ball
Detox
Failed State
Momento Mori
Angel Of Eighth Avenue
Confessions Of A Dangerous Mind
Metamorphosis
Sleeping Rough
Souls From Hell
Stop Global War
Four Strong Winds
Higher Tide
The Outsider
Thunders In The Rain
Stormy Day
Little Black Crow
Sick Velveteen
Artificial
Bordeaux Red
Chemical
Deconstruct
Diatribe
Feed The Whore
Heathens
Prime Evil
Rebellion Song
Sin City Blues
Slave
Big Bug
Suicidal Girl
Virus
Cry Wolf
Archaeology
611
Polarisation
Oligarchy
I've Got A Gun
Evil VS Evil
Proto Feminist
Disclosure
Rise
World War III
Dope Fiend
I Don't Care
Master Race
Banksy
This Machine
City Of The Dead
Maid Of Orleans
Zeitgeist
Another Cuba (Demo)
Lydia (Demo)
Riot
Government Drugs
B.F.D.
Hops N Barley
Betrayal
Nobody Move
Postcard From L.A.
Beer Police
Stay Away
Paradise Burning (Extended)
It's A Scam
Bathroom Messiah
UK Subversives
Terroristos
Phillips Environmental
Works (Studio Version)
Reclaim The Street
Metro
Go Home
Something In The Air
The Revolution's Here
Party In Paris (2000 Version)
Something In The Air (Dub)
Drunken Sailor
Product Supply
Rare Disease
Embryo
666 Yeah
Straighten Out
Creation
Warhead (2008)
I Live In A Car (2008)
Knuckleduster
Straighten Out (Second Version)
Hey Santa Claus!
About this release
This year the UK Subs celebrate their 40th anniversary with two comprehensive box sets rounding up all 26 of their albums and associated singles and b-sides. The band set out in 1979 to release an album for each letter of the alphabet and finally completed the task in 2017.
This fifteen disc 261 track CD Book Set contains the second half of the A-Z series (N – Z), plus two discs of non LP singles, B-sides and rare compilation album tracks. Each album is packaged in a 7" sleeve featuring a replica of its original front cover with each CD a picture disc, all bound together in a strong hard back casing.
Made with 11 guitarists, twelve bassists, Fifteen drummers….and one lead singer!
Each box also contains a signed frame-able print by frontman Charlie Harper
Each album has been remastered so that the Subs have never looked or sounded better.
Extra information about this release