The 80s Pop Annual (Vinyl)
Various Artists
The 80s Pop Annual (Vinyl)
Various Artists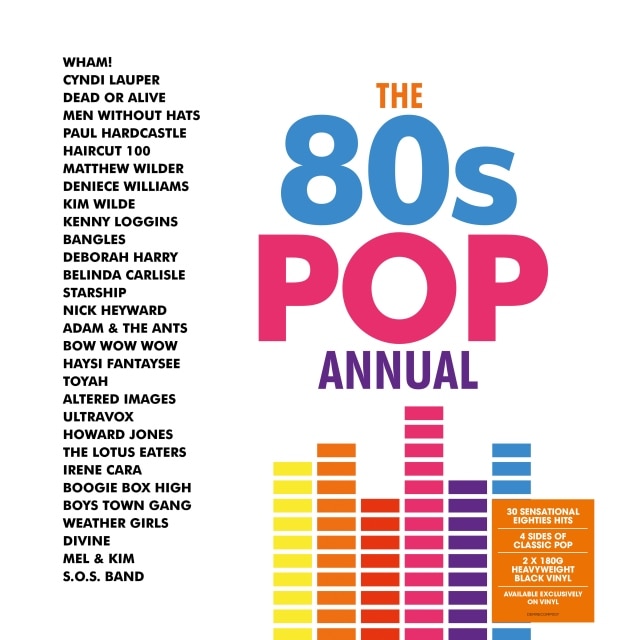 Release information
Release information
Label: Demon Records
• Format: Vinyl
• Date: 17/11/2017
Cat#: DEMRECOMP010
• Barcode: 5014797896505
• Genre: Pop
Sub Genre: Classic Pop
Track Listing
Wham! - Wake Me Up Before You Go-Go
Cyndi Lauper - Girls Just Want to Have Fun
Dead Or Alive - You Spin Me Round (Like a Record)
Men Without Hats - The Safety Dance
Paul Hardcastle - 19
Haircut 100 - Love Plus One
Matthew Wilder - Break My Stride
Deniece Williams - Let's Hear It For The Boy
Kim Wilde - Kids In America
Kenny Loggins - Footloose
Bangles - Manic Monday
Deborah Harry - I Want That Man
Belinda Carlisle - Heaven Is A Place On Earth
Starship - Nothing's Gonna Stop Us Now
Nick Heyward - Whistle Down the Wind
Adam & The Ants - Stand And Deliver
Adam & The Ants - Stand And Deliver
Adam & The Ants - Stand And Deliver
Toyah - I Want To Be Free
Altered Images - Don't Talk To Me About Love
Ultravox - Dancing With Tears In My Eyes
Howard Jones - What Is Love?
The Lotus Eaters - The First Picture of You
Irene Cara - Fame
Boogie Box High - Jive Talkin'
Boys Town Gang - Can't Take My Eyes Off You
The Weather Girls - It's Raining Men
Divine - You Think You're A Man
Mel & Kim - Respectable
S.O.S. Band - Just Be Good To Me
About this release
The 80s Pop Annual is the definitive sound of the 80s album, collecting some of the greatest songs of the decade, including a whopping 30 Pop classics!
Presented in a gatefold sleeve with original artwork & pressed on 2x 180g Heavyweight Black Vinyl.
Featuring Huge Hits: Wake Me Up Before You Go-Go (Wham!) / Footloose (Kenny Loggins) / Kids In America (Kim Wilde) / Girls Just Want to Have Fun (Cyndi Lauper ) / Heaven Is A Place On Earth (Belinda Carlisle ) + Many More.
80s Pop Annual is available Exclusively On Vinyl.
Extra information about this release