The 80s Pop Annual 2 (Vinyl)
Various Artists
The 80s Pop Annual 2 (Vinyl)
Various Artists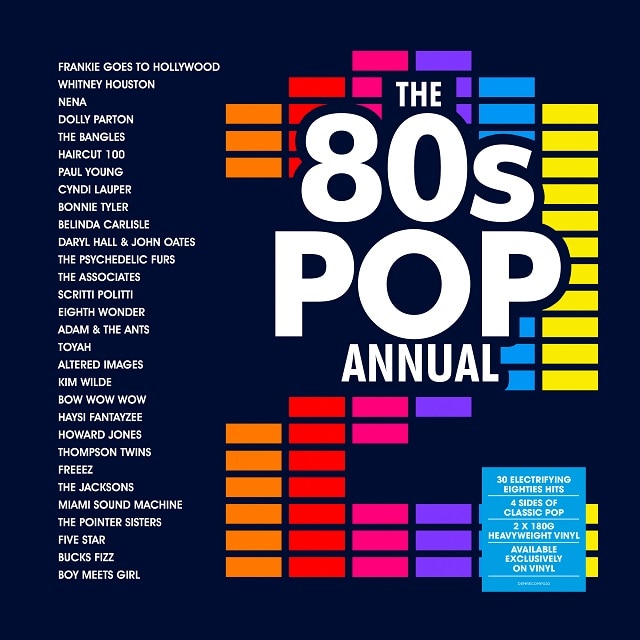 Release information
Release information
Label: Demon Records
• Format: Vinyl
• Date: 09/11/2018
Cat#: DEMRECOMP020
• Barcode: 5014797898035
• Genre: Pop
Track Listing
Frankie Goes To Hollywood - Relax
Whitney Houston - I Wanna Dance with Somebody
Nena- 99 Red Balloons
Dolly Parton - 9 to 5
The Bangles - Walk Like an Egyptian
Haircut 100 - Fantastic Day
Paul Young - Love of the Common People
Cyndi Lauper - Time After Time
Bonnie Tyler - Holding Out for a Hero
Belinda Carlisle - Leave A Light On
Daryl Hall & John Oates - Out Of Touch
The Psychedelic Furs - Pretty In Pink
Associates - Party Fears Two
Scritti Politti - Wood Beez (Pray Like Aretha Franklin)
Eighth Wonder - I'm Not Scared
Adam & The Ants - Antmusic
Toyah - It's A Mystery
Altered Images - Happy Birthdays
Kim Wilde - Chequered Love
Bow Wow Wow - I Want Candy
Haysi Fantayzee - Shiny Shiny
Howard Jones - New Song
Thompson Twins - Hold Me Now
Freeez - I.O.U.
The Jacksons - Can You Feel It
Miami Sound Machine - Dr. Beat
The Pointer Sisters - Jump (For My Love)
Five Star - Rain or Shine
Bucks Fizz - My Camera Never Lies
Boy Meets Girl - Waiting for a Star to Fall
About this release
The 80s Pop Annual 2 is the Latest Exclusive to Vinyl release on Demon Records.
4 Sides of Vinyl containing 30 Tracks of Essential Classic Pop of The Eighties. Housed in a Gatefold Sleeve with Original Artwork & Pressed on 2x 180G Heavyweight Vinyl.
Hits from artists such as; Cyndi Lauper, Belinda Carlisle, The Bangles, The Jacksons, Adam & The Ants and many more.
Extra information about this release