The 70s Pop Annual 2 (Vinyl)
Various Artists
The 70s Pop Annual 2 (Vinyl)
Various Artists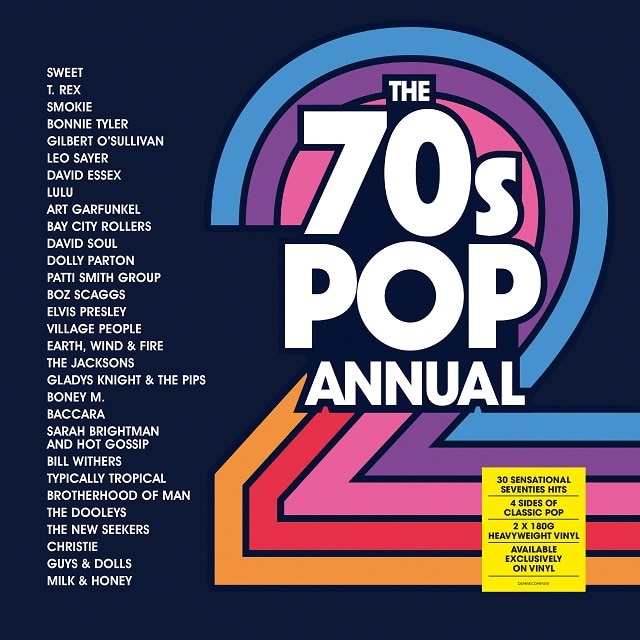 Release information
Release information
Label: Demon Records
• Format: Vinyl
• Date: 09/11/2018
Cat#: DEMRECOMP019
• Barcode: 5014797898028
• Genre: Pop
Track Listing
Sweet - Blockbuster
T. Rex - Telegram Sam
Smokie - Living Next Door to Alice
Bonnie Tyler ‎ - It's A Heartache
Gilbert O'Sullivan - Get Down
Leo Sayer - You Make Me Feel Like Dancing
David Essex - Hold Me Close
Lulu - Man Who Sold The World
Art Garfunkel - Bright Eyes
Bay City Rollers - Give a Little Love
David Soul - Silver Lady
Dolly Parton - Here You Come Again
Patti Smith Group - Because the Night
Boz Scaggs - Lido Shuffle
Elvis Presley - Way Down
Village People - Y.M.C.A.
Earth, Wind & Fire - September
The Jacksons - Shake Your Body (Down to the Ground)
Gladys Knight & The Pips - Baby Don't Change Your Mind
Boney M. - Ma Baker
Baccara - Sorry, I'm a Lady
Sarah Brightman and Hot Gossip - I Lost My Heart to a Starship Trooper
Bill Withers - Lovely Day
Typically Tropical - Barbados
Brotherhood Of Man - Figaro
The Dooleys - Wanted
The New Seekers - You Won't Find Another Fool Like Me
Christie - Yellow River
Guys & Dolls - There's A Whole Lot Of Loving
Milk & Honey - Hallelujah
About this release
The 70s Pop Annual 2 is the Latest Exclusive to Vinyl release on Demon Records.
4 Sides of Vinyl containing 30 Tracks of Essential Classic Pop of The Seventies. Housed in a Gatefold Sleeve with Original Artwork & Pressed on 2x 180G Heavyweight Viny.
Artists include: T. Rex, Bonnie Tyler, Elvis Presley, Village People, Lulu, Sweet, David Essex, Dolly Parton and more.
Extra information about this release