Tammy Wynette – Gold
Tammy Wynette
Tammy Wynette – Gold
Tammy Wynette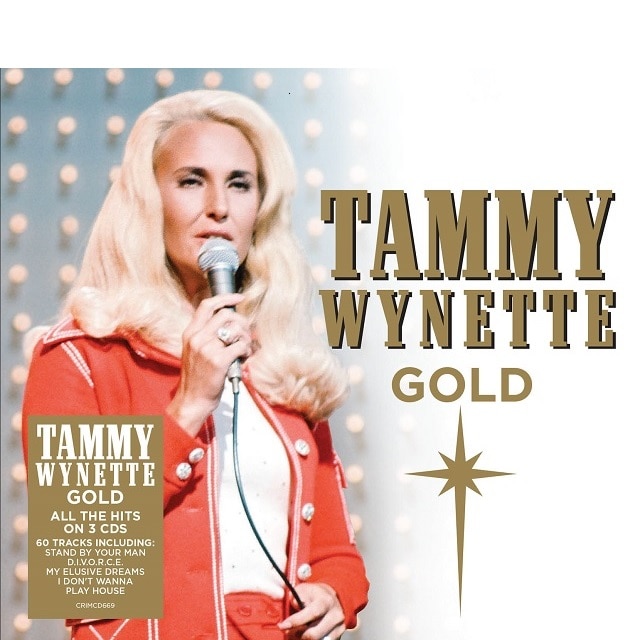 Release information
Release information
Label: Crimson Productions
• Format: CD
• Date: 10/07/2020
Cat#: CRIMCD669
• Barcode: 654378066924
• Genre: Country
Track Listing
STAND BY YOUR MAN
D.I.V.O.R.C.E
MY ELUSIVE DREAMS [David Houston and Tammy Wynette]
TAKE ME TO YOUR WORLD
APARTMENT #9
YOUR GOOD GIRL'S GONNA GO BAD
LONELY STREET
I DON'T WANNA PLAY HOUSE
THERE GOES MY EVERYTHING
SINGING MY SONG
THE WAYS TO LOVE A MAN
TAKE ME [George Jones & Tammy Wynette]
WE SURE CAN LOVE EACH OTHER
GOOD LOVIN' (MAKES IT RIGHT)
THE WONDERS YOU PERFORM
TILL I GET IT RIGHT
HE LOVES ME ALL THE WAY
RUN WOMAN RUN
I'LL SEE HIM THROUGH
BEDTIME STORY
GOLDEN RING [George Jones & Tammy Wynette]
(WE'RE NOT) THE JET SET [George Jones & Tammy Wynette]
THE CEREMONY [George Jones & Tammy Wynette]
REACH OUT YOUR HAND
KIDS SAY THE DARNDEST THINGS
WE'RE GONNA HOLD ON [George Jones & Tammy Wynette]
ANOTHER LONELY SONG
. HELP ME MAKE IT THROUGH THE NIGHT
WOMAN TO WOMAN
LET'S BUILD A WORLD TOGETHER [George Jones & Tammy Wynette]
OLD FASHIONED SINGING [George Jones & Tammy Wynette]
CRYING STEEL GUITAR
I STILL BELIEVE IN FAIRY TALES
NO CHARGE
YOU AND ME
WE LOVED IT AWAY [George Jones & Tammy Wynette]
(YOU MAKE ME WANT TO BE) A MOTHER
'TIL I CAN MAKE IT ON MY OWN
MY MAN (UNDERSTANDS)
. NEAR YOU [George Jones & Tammy Wynette]
LET'S GET TOGETHER (ONE LAST TIME)
ONE OF A KIND
SOUTHERN CALIFORNIA [George Jones & Tammy Wynette]
I'D LIKE TO SEE JESUS (ON THE MIDNIGHT SPECIAL)
WOMANHOOD
TWO STORY HOUSE [George Jones & Tammy Wynette]
STARTING OVER
A PAIR OF OLD SNEAKERS [George Jones & Tammy Wynette]
HE WAS THERE (WHEN I NEEDED YOU)
THEY CALL IT MAKING LOVE
COWBOYS DON'T SHOOT STRAIGHT (LIKE THEY USED TO)
YOU STILL GET TO ME IN MY DREAMS
ANOTHER CHANCE
CRYING IN THE RAIN
YOU CAN LEAD A HEART TO LOVE (BUT YOU CAN'T MAKE IT FALL)
SOMETIMES WHEN WE TOUCH [Tammy Wynette with Marc Gray]
TALKIN' TO MYSELF AGAIN
NO ONE ELSE IN THE WORLD
BENEATH A PAINTED SKY
YOUR LOVE
About this release
Known as "The First Lady Of Country Music", Tammy Wynette charted 73 US Country hits, 20 of which were # 1s. Her first # 1 was the duet with David Houston, "My Elusive Dreams", included in this set.
In the UK, she reached # 1 with the perennially popular "Stand by Your Man" in 1975 (for which she won a Grammy), and had follow-up hits with the equally popular "D.I.V.O.R.C.E" and "I Don't Wanna Play House" (for which she won another a Grammy).
Married to fellow country legend George Jones from 1969 to 1975, they recorded many hit duets together, eleven of which are featured in this set.
Nearly all produced by country music's best-known producer Billy Sherrill, this sixty track 3 CD set features Tammy's top hits.
Extra information about this release