Talk Show
Go-Go's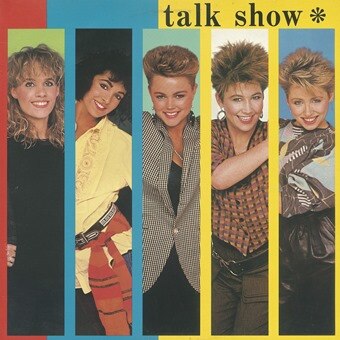 Release information
Release information
Label: Edsel
• Format: CD
• Date: 25/03/2016
Cat#: EDSA5051
• Barcode: 740155505134
• Genre: Pop, Rock
Track Listing
Head Over Heels
Turn To You
You Thought
Beneath The Blue Sky
Forget That Day
I'm The Only One
Yes Or No
Capture The Light
I'm With You
Mercenary
Good For Gone [b-side]
Yes Or No [single mix]
I'm With You [live at The Greek]
Can't Stop The World [live at The Greek]
I'm The Only One [live at The Greek]
Cool Jerk [re-recording]
Mercenary [acoustic] [live at Universal Amphitheater]
Good Girl [Reunion recording 1994]
Beautiful [Reunion recording 1994]
The Whole World Lost Its Head [Reunion recording 1994]
About this release
For the third album, 1984's "Talk Show", the Go-Go's re-located to England and hired Martin Rushent (Human League, Buzzcocks) to produce the album at his own Genetic Studios.
Aside from hit singles "Head Over Heels" and "Turn To You", the album also includes songwriting contributions from Carlene Carter, and Ron and Russell Mael!
The bonus tracks on this deluxe digipak reissue include a non-album b-side, four live recordings from 1984 and 1990, a 1990 re-recording of "Cool Jerk", and three reunion recordings from 1994.
For the comprehensive note, Paul Myers has newly interviewed Belinda, Charlotte and Jane for the full story of the writing and recording of the album. The booklet also includes lyrics and photos.