T.Rex: Zinc Alloy and the Hidden Riders of Tomorrow: (hmv Exclusive) 1921 Series 'Zinc Alloy' Vinyl
T.Rex
T.Rex: Zinc Alloy and the Hidden Riders of Tomorrow: (hmv Exclusive) 1921 Series 'Zinc Alloy' Vinyl
T.Rex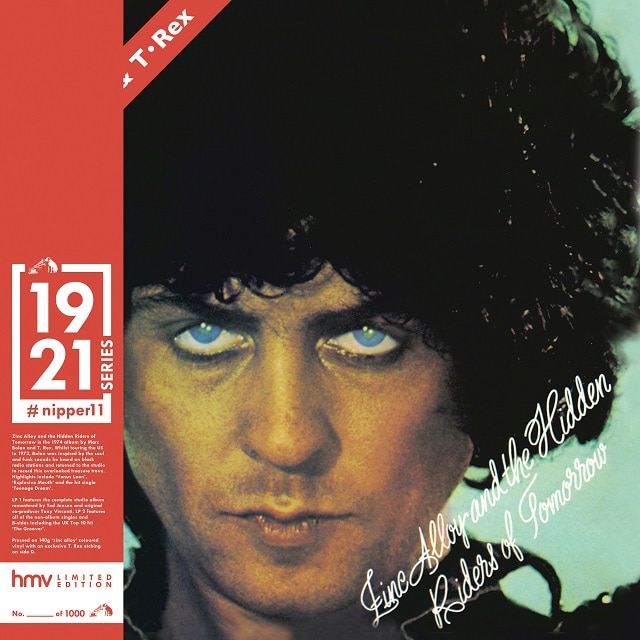 Release information
Release information
Label: Demon Records
• Format: Vinyl
• Date: 18/09/2020
Cat#: DEMREC727
• Barcode: 5014797903142
• Genre: Rock
Sub Genre: Glam Rock
Track Listing
Venus Loon
Sound Pit
Explosive Mouth
Galaxy
Change
Nameless Wildness
Teenage Dream
Liquid Gang
Carsmile Smith & the Old One
You've Got To Jive To Stay Alive - Spanish Midnight
Interstellar Soul
Painless Persuasion v. the Meathawk Immaculate
The Avengers (Superbad)
The Leopards Featuring Gardenia & the Mighty Slug
The Groover
Midnight
Truck On (Tyke)
Sitting Here
Satisfaction Pony
About this release
Zinc Alloy and the Hidden Riders of Tomorrow is the 1974 album by Marc Bolan and T. Rex.
Whilst touring the US in 1973, Bolan was inspired by the soul and funk sounds he heard on black radio stations and returned to the studio to record this overlooked treasure trove. Highlights include 'Venus Loon', 'Explosive Mouth' and the hit single 'Teenage Dream'.
LP 1 features the complete studio album remastered by Ted Jensen and original co-producer Tony Visconti. LP 2 features all of the non-album singles and B-sides including the UK Top 10 hit 'The Groover'.
Pressed on 140g 'zinc alloy' coloured vinyl with an exclusive T. Rex etching on side D.