Surf & Mull & Sex & Fun (140g Red & White Vinyl)
Mental As Anything
Surf & Mull & Sex & Fun (140g Red & White Vinyl)
Mental As Anything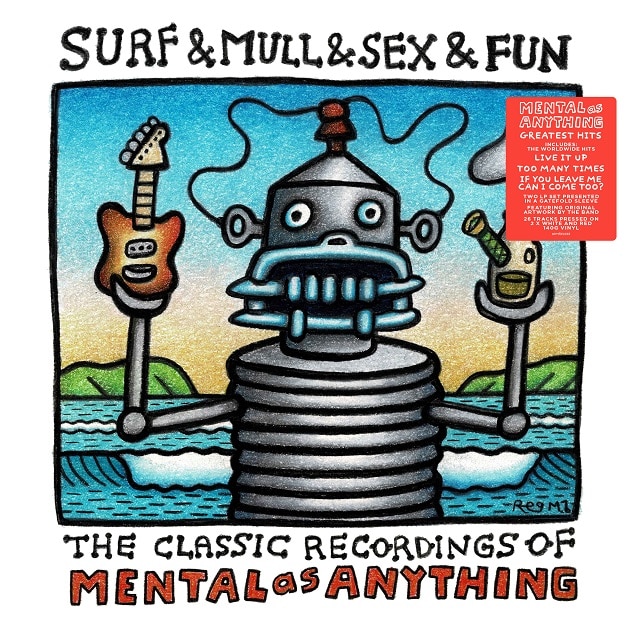 Release information
Release information
Label: Demon Records
• Format: Vinyl
• Date: 05/03/2021
Cat#: DEMREC655
• Barcode: 5014797902305
• Genre: Alternative, Pop
Sub Genre: Britpop
Track Listing
THE NIPS ARE GETTING BIGGER
EGYPT
(JUST LIKE) ROMEO AND JULIET
COME AROUND
TOO MANY TIMES
IF YOU LEAVE ME CAN I COME TOO?
BERSERK WARRIORS
LET'S COOK
I DIDN' T MEAN TO BE MEAN
CLOSE AGAIN
SPIRIT GOT LOST
BRAIN BRAIN
WORKING FOR THE MAN
APOCALYPSO (WIPING THE SMILE OFF SANTA'S FACE)
YOU'RE SO STRONG
LIVE IT UP
DATE WITH DESTINY
LET'S GO TO PARADISE
HE'S JUST NO GOOD FOR YOU
DON'T TELL ME NOW
CONCRETE AND CLAY
ROCK 'N'ROLL MUSIC
THE WORLD SEEMS DIFFICULT
MR. NATURAL
NIGEL
SURF & MULL & SEX & FUN
About this release
Mental as Anything, affectionately known as 'The Mentals ', were one of Australia's most popular bands in the 1980s who achieved worldwide recognition after the international smash hit single 'Live it Up'.
'Live It Up' was featured in the Crocodile Dundee film and soundtrack and reached #3 in the UK charts in 1987. In 2020 the song was adopted by football club Glasgow Rangers as their clubs anthem which saw the song reach #1 in the UK iTunes chart.
This compilation features all the bands greatest hits including; 'Too Many Times', 'If You Leave Me Can I Come Too?', 'The Nips Are Getting Bigger' and international hit 'Live It Up'.
This double LP compilation is presented in a gatefold sleeve, with original artwork produced by the band. Pressed on 2x 140g and available on coloured vinyl for the first time (red and white)