The Bluetones: Superior Quality Recordings 1994-2002 (Signed Edition)
The Bluetones
The Bluetones: Superior Quality Recordings 1994-2002 (Signed Edition)
The Bluetones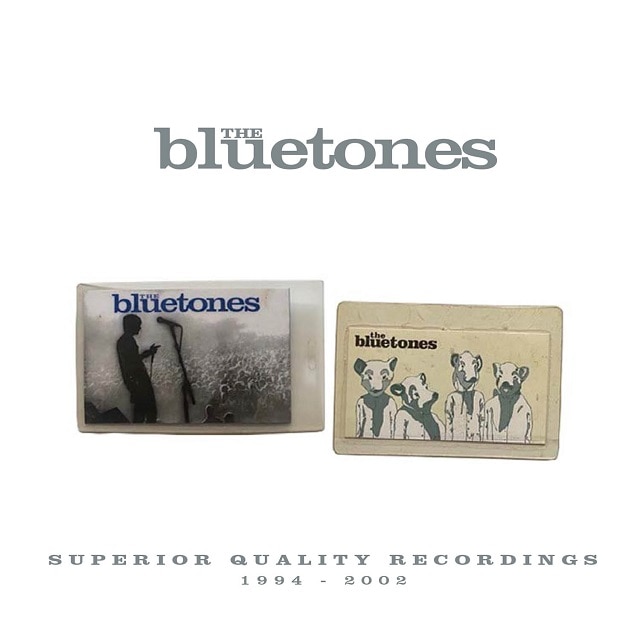 Release information
Release information
Label: Edsel
• Format: CD
• Date: 06/08/2021
Cat#: EDSL0080X
• Barcode: 5014797904682
• Genre: Alternative, Indie
Sub Genre: Britpop
Track Listing
Talking To Clarry
Bluetonic
Cut Some Rug
Things Change
The Fountainhead
Carnt Be Trusted
Slight Return
Putting Out Fires
Vampire
A Parting Gesture
Time & Again
Are You Blue Or Are You Blind?
String Along
Driftwood
Colorado Beetle
Glad To See Y'Back Again
Don't Stand Me Down
Nae Hair On't
Castle Rock
The Devil Behind My Smile
Marblehead Johnson
The Simple Things
Nifkin's Bridge
Time & Again [4-track demo]
Cut Some Rug [4-track demo]
Putting Out Fires [4-track demo]
Are You Blue Or Are You Blind? [demo]
Talking To Clarry [demo]
Carnt Be Trusted [demo]
Slight Return [limited edition UK/Japan 7" single]
No. 11 (Bluetonic) [from the Fierce Panda "Return To Splendour" EP]
The Fountainhead [demo]
Time & Again [demo
Cut Some Rug [homemade 4-track recording]
Talking To Clarry [homemade 8-track recording]
Are You Blue Or Are You Blind? [homemade 8-track recording]
Tone Blooze
Unpainted Arizona
Solomon Bites The Worm
U.T.A.
4-Day Weekend
Sleazy Bed Track
If...
The Jub-Jub Bird
Sky Will Fall
Ames
Down At The Reservoir
Heard You Were Dead
Broken Starr
I Was A Teenage Jesus
I Walked All Night
Blue Shadows
The Watchman
The Ballad Of Muldoon
Blue
Mr. Soul
Pretty Ballerina
Woman Done Gone Left Me
Zorrro
The Last Of The Great Navigators
Tiger Lily
Mudslide
One Speed Gearbox
Blood Bubble
Autophilia Or "How I Learned To Stop Worrying And Love My Car"
Keep The Home Fires Burning
The Basement Song
Slack Jaw
Emily's Pine
Armageddon (Outta Here)
The Favourite Son
Be Careful What You Dream
Please Stop Talking
Keep The Home Fires Burning [Radio Version]
Thought You'd Be Taller
It's A Boy
Soup Du Jour
Vostok Of Love
Mudslide [Radio Edit]
Keep The Home Fires Burning [US Version]
Zero Tolerance
Fock Da Brain-Hole
Mudslide [Shandy Weather Version]
After Hours
Groovy Roussos
Sail On Sailor
Reverse Cow Girl
Woman In Love
Ingimarsson
Freeze Dried Pop (Dumb It Up)
Persuasion
The Bluetones Big Score
That's Life
About this release
EXCLUSIVE EDITION – contains print signed by all four band members, and five badges
Hailing from Heston in West London, The Bluetones (Scott Morriss – bass, Eds Chesters – drums, Adam Devlin – guitars, and Mark Morriss – vocals) arrived on the scene in 1995 with their debut single "Are You Blue Or Are You Blind?". They followed this up with "Bluetonic" and then "Slight Return", which reached # 2 on the UK singles chart. The debut album "Expecting To Fly" was released in February 1996, and went straight to # 1. Many more hit singles followed, along with two more hit albums, "Return To The Last Chance Saloon" (# 10) and "Science And Nature" (# 7).
This first ever comprehensive box set of The Bluetones' first period of recordings – from 1994 to 2002 – contains  93 tracks across six CDs. It includes the first three albums – "Expecting To Fly" (1996), "Return To The Last Chance Saloon" (1998) and "Science And Nature" (2000) – as well as the collection of pre-fame demos "The Early Garage Years", forty-five non-album A- and B-sides and rarities, and three previously unreleased demos (mastered for this compilation by Nigel Clark of Dodgy).
The six CDs are presented in facsimile wallets, and the booklet features all the credits, along with memorabilia and ephemera from the band members' own collections. Box Set # 2 will follow later this year…..
Recommended titles