Suede – 25th Anniversary Silver Edition
Suede
Suede – 25th Anniversary Silver Edition
Suede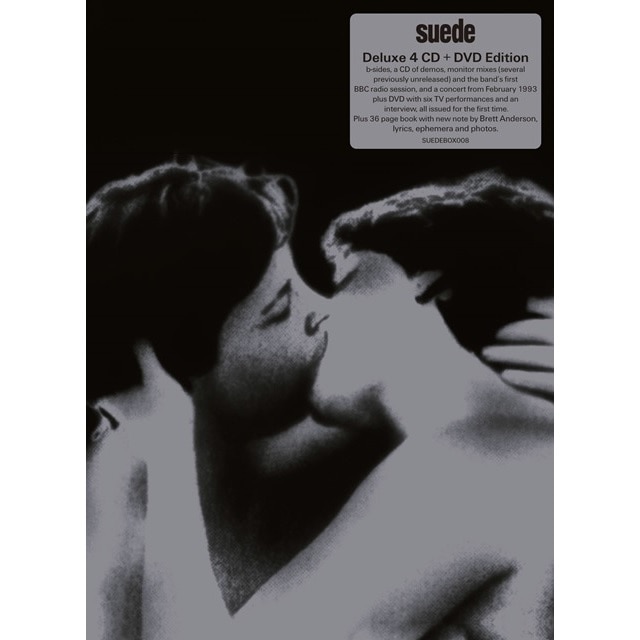 Release information
Release information
Label: Edsel
• Format: CD,
• Date: 30/03/2018
Cat#: SUEDEBOX008
• Barcode: 5014797896970
• Genre: Alternative, Indie
Sub Genre: Britpop
Track Listing
So Young
Animal Nitrate
She's Not Dead
Moving
Pantomime Horse
The Drowners
Sleeping Pills
Breakdown
Metal Mickey
Animal Lover
The Next Life
My Insatiable One
To The Birds
He's Dead
Where The Pigs Don't Fly
Painted People
The Big Time
High Rising
Dolly
My Insatiable One [piano version]
Brass In Pocket
The Drowners
He's Dead
Moving
To The Birds
Metal Mickey
Pantomime Horse
High Wire (My Insatiable One)
The Drowners
To The Birds
Sleeping Pills
The Drowners
To The Birds
My Insatiable One
Metal Mickey
The Drowners
Sleeping Pills
Moving
Diesel [instrumental] [studio outtake]
Stars On 45 [rehearsal room recording]
Sleeping Pills [strings]
Metal Mickey
Moving
My Insatiable One
Animal Nitrate
Pantomime Horse
The Drowners
Painted People
So Young
Animal Lover
Sleeping Pills
To The Birds
The Drowners
Metal Mickey
So Young
So Young
The Next Life / Brett and Jools
My Insatiable One
About this release
Brett Anderson believes that Suede's debut album, winner of the Mercury Music Prize in 1993, probably has more cultural resonance than any other of their albums, as a pre-cursor to Britpop and a supplanter of grunge. It is also home to four ground-breaking singles.
This deluxe edition features the album; the b-sides; a CD of demos, monitor mixes (several previously unreleased) and the band's first BBC radio session, arranged chronologically; plus a concert from February 1993.
The DVD features six contemporary TV performances (including their first ever TV appearance), and an hour-long film of Brett and Bernard Butler discussing the writing and recording of the album, all issued for the first time.
Also included is a new note by Brett about his memories of the recording of the album, along with the lyrics,
hand-written lyric drafts, tape boxes, and photos from the band's collections.
Extra information about this release