Stomp All Night: The Remix Anthology
Steps
Stomp All Night: The Remix Anthology
Steps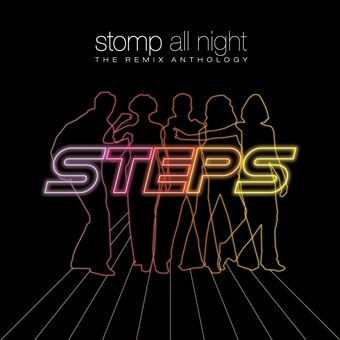 Release information
Release information
Label: Edsel
• Format: CD
• Date: 20/05/2016
Cat#: STEPSMIX001
• Barcode: 5014797894853
• Genre: Pop
Track Listing
Stomp [W.I.P. Mix]
Last Thing On My Mind [W.I.P't Up In The Disco Mix]
One For Sorrow [W.I.P. Remix]
Tragedy [W.I.P. Reception Mix]
Better Best Forgotten [W.I.P. '99 Cream Of Manchester Mix]
Love's Got A Hold On My Heart [W.I.P. Off The Wall Mix]
After The Love Has Gone [W.I.P. Mix]
Summer Of Love [W.I.P. Remix]
Deeper Shade Of Blue [Sleazesisters Anthem Mix]
It's The Way You Make Me Feel [Sleazesisters Anthem Mix]
Here And Now [Sleazesisters Anthem Mix]
Chain Reaction [Xenomania Club Mix]
Say You'll Be Mine [Matt Pop's Old Skool Mix]
Better The Devil You Know [2T's 2 Go Mix]
You'll Be Sorry [W.I.P. Bach To Classics Mix]
5, 6, 7, 8 [W.I.P. Remix]
Too Busy Thinking About My Baby [W.I.P. Mix]
Baby Don't Dance [W.I.P. 12" Pushing It Mix]
Deeper Shade Of Blue [W.I.P. Mix]
One For Sorrow [Sleazesisters Anthem Mix]
Words Are Not Enough [Sleazesisters Anthem Mix]
You'll Be Sorry [Sleazesisters Anthem Mix]
Chain Reaction [Almighty Mix]
I Know Him So Well [Almighty Mix]
Stomp [Dance Man's Cosmic Funk Mix]
Summer Of Love [Tour Mix]
One For Sorrow [Soul Solution Extended Vocal Mix]
Chain Reaction [Kool De Sac Remix]
5, 6, 7, 8 [Euro Step Mix]
Heartbeat [Simon Hill Mix]
One For Sorrow [Tony Moran Underground Club]
Summer Of Love [D-Bop's Tequila Sunrise Vocal Mix]
Chain Reaction [Hit Squad Mix]
Deeper Shade Of Blue [Blockster Dirty Blue Klub Mix]
One For Sorrow [Pimp Juice's Summer Fung 12"]
5, 6, 7, 8 [W.I.P. 2002 Remix]
Stomp [Stomp'n Remix]
About this release
A record-breaking pop phenomenon, Steps have always been dedicated to the dance floor.
This remastered 3CD anthology brings together no less than 37 full-length mixes of their classic hits, including Tragedy, One For Sorrow, Deeper Shade Of Blue and many more. Alongside sought-after mixes from Almighty, Xenomania, Sleazesisters, Tony Moran and PWL's Work In Progress team, an exclusive new Matt Pop remix of Say You'll Be Mine takes Steps right back
to their Hit Factory roots.
Presented in discotastic digifile packaging with a 16-page booklet, Stomp All Night is an essential for all Steps devotees…Get on up and dance!