Space: Anthology
Space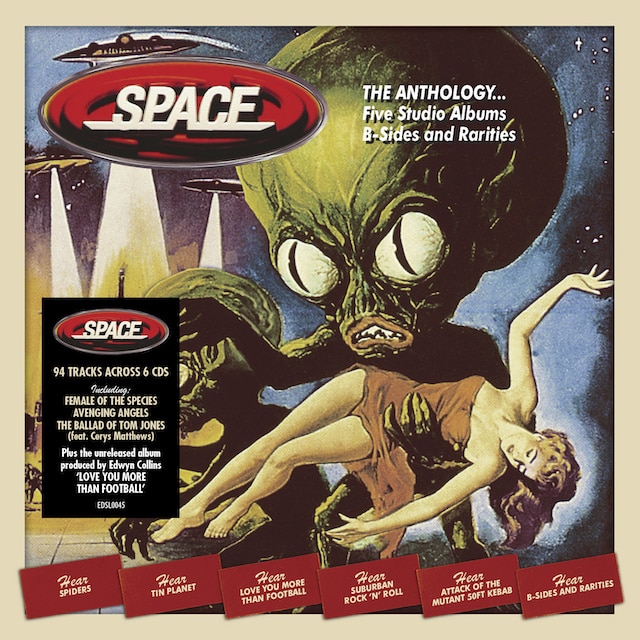 Release information
Release information
Label: Edsel
• Format: CD
• Date: 08/11/2019
Cat#: EDSL0045
• Barcode: 740155724535
• Genre: Pop, Rock
Sub Genre: Britpop
Track Listing
Neighbourhood
Mister Psycho
Female of the Species
Money
Me & You Vs The World
Lovechild of the queen
No-One Understands
Voodoo Roller
Drop Dead
Dark Clouds
Major Pager
Kill Me
Charlie M
Growler
Children of The Night
Influenza
Had Enough
Give Me Something
Turn Me On To Spiders
Rejects
Begin Again
Avenging Angels
The Ballad of Tom Jones
1 O'Clock
Be There
The Man
A Liddle Biddy Help From Elvis
The Unluckiest Man In The World
Piggies
Bad Day's
There's No You
Disco Dolly
Fran In Japan
We Gotta Get Out Of This Place
You Romantic Fool
Numb The Doubt
I Am Unlike A Lifeform You've Ever Met
Bastard Me, Bastard You
Theme from "Baretta Vendetta"
Everybody In The Madhouse
Diary Of A Wimp
Good Times
I Love You More Than Football
Evil Things
No Ones Gonna Steal My Love
Gravity
Raymond
Voices
Supersonic Jetplane
Despise
Thank You
Juno 54
Yes You Do
If I Ever
Suburban Rock´n´Roll
Zombies
Hitch-Hiking
Punk Rock Funeral
Hell's Barbecue
Paranoid 6teen
The English Language
Pretty Suicide
20 Million Miles From Earth
Quiet Beach
The Goodbye Song
Cameraman
Play The Songs
Lava Flow
The English Language Let Me Down (Alternative Version)
Teardrops From The Moon
Fortune Teller
Armageddon
Frightened Horses
Attack Of The Mutant 50ft Kebab
Falling In Love
Crying On The Webcam
Day Of The Dead
Guest List To Hell
Happy Clowns
Anthony's Brainwaves
She's In Love With The Boy In The Bodybag
The Perfect Sin
…Now I'm History!
If It's Real
Lookin'
I'm Free
Dopamine
Anaesthetised
Straight Line
Nothing To Find Her
The Year Of The Underdog
Spooky Bitch
Strange World
Haunted Houses
About this release
Space are the British band of the 1990s, who had several UK chart hits and two double platinum albums, all contained in this 6CD box set. The previously unreleased album 'Love You More Than Football' Is included alongside album b-sides and rarities.
Box set features 94 tracks, across 6CDs, presented in a clamshell box set with a 15 page booklet with note. Hit singles include; Avenging Angels (UK 6), Female of the Species (UK 14), Me and You Versus the World (UK 9), Neighbourhood (UK 11), The Ballad of Tom Jones feat Cerys Matthews (UK 4) and Dark Clouds (UK 14).
CD1 – Spiders
CD2 – Tin Planet
CD3 – Love You More Than Football
CD4 – Suburban Rock 'n' Roll
CD5 – Attack of the 50ft Mutant Kebab
CD6 – Bonus CD