Sources: The Trax Records Anthology
Various Artists
Sources: The Trax Records Anthology
Various Artists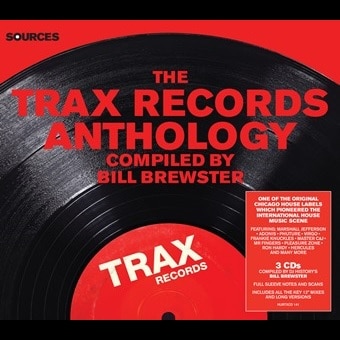 Release information
Release information
Label: Edsel
• Format: CD, Digital
• Date: 04/12/2015
Cat#: HURTXCD141
• Barcode: 5014797021419
• Genre: Dance
Track Listing
Move Your Body (The House Music Anthem) (Original Club 12" Mix) - Marshall Jefferson
Bad Boy (Original 'Unreleased' Club 12" Mix) - Frankie Knuckles/Jamie Principle
We're Rocking Down The House (Original Club 12" Mix) - Adonis
Acid Tracks (Original Club 12" Mix) - Phuture
Washing Machine (Original Club 12" Mix) - Mr Fingers
I'll Never Let You Go (Original Club 12" Mix) - William S
Bring Down The Walls (Original Club 12" Mix) - Robert Owens
I've Lost Control (Original Club 12" Mix) - Sleezy D
Children Of The Night (Original Club 12" Mix) - Kevin Irving
Farley Knows House (Original Club 12" Mix) - Farley Jackmaster Funk
Your Love (Original Club 12" Mix) - Frankie Knuckles/Jamie Principle
No Way Back (Original Club 12" Mix) - Adonis
Free Yourself (Original Club 12" Mix) - Virgo
Dub Love (Original Club 12" Mix) - Master C&J
In A Vision (Original Club 12" Mix) - Virgo Four
The Jungle (Original Club 12" Mix) - Jungle Wonz
All The Time (Original Club 12" Mix) - M.E.
Spank-Spank (Original Club 12" Mix) - Phuture
R U Hot Enough (Original Club 12" Mix) - Virgo
Ride The Rhythm (Original Club 12" Mix) - On The House with Marshall Jefferson
Pump Up Chicago (Original Club 12" Mix) - Mr Lee
When You Hold Me (Original Club 12" Mix) - Master C&J
Baby Wants To Ride (Original Club 12" Mix) – Frankie Knuckles/Jamie Principle
Can You Feel It (Original Club 12" Mix) - Mr Fingers
Take Me Higher (Original Club 12" Mix) - Virgo Four
Never Want To Lose You (Original Club 12" Mix) - M.E.
Time Marches On (Original Club 12" Mix) - Jungle Wonz
It's A Cold World (Original Club 12" Mix) - Frankie Knuckles/Jamie Principle
My Space (Original Club 12" Mix) - Virgo
Fantasy (Original Club 12" Mix) - Pleasure Zone
Lost In The Groove (Original Club 12" Mix) - Hercules
Sensation (Original Club 12" Mix) - Ron Hardy
Let's Get Busy (Original Club 12" Mix) - Curtis McClain & On The House
What Is House? (Original Club 12" Mix) - Willie Wonka
Knocking At My Door (Original Club 12" Mix) - Donell Rush
Bird In A Gilded Cage (Original Club 12" Mix) - Jungle Wonz
About this release
Sources is a brand new series which will examine the output of a number of extremely influential independent U.S. labels throughout the 1970s, 1980s and 1990s.
The tenth and final release in the Sources series deals with one of the great House Music labels of all-time (along with DJ International and Underground), Trax records from Chicago. Originally founded by Larry Sherman, Trax had the advantage of being one of the local Chicago independent pressing plants, so when this new phenomenon called House music arrived and people started turning up at Trax with tapes that they wanted to press onto vinyl, then Larry smelt a market and thus Trax records was born.
The label was renowned for its almost punk ethic of simply getting the releases out fast and furiously without much in the way of obvious design values or quality control. Their releases were generally pressed on recycled vinyl and housed in recycled card sleeves – in fact, it was not unusual to open the record and see bits of paper pressed into the vinyl and old printing on the inside of the sleeves! However, the operation perfectly suited the ethos of the music, the majority of which was often made on 4 track machines in numerous bedrooms before being tested at Chicago's two main House clubs – Music Box via Ron Hardy and the Warehouse, where the legendary Frankie Knuckles ruled the decks. If the bedroom tape got the thumbs up from Ron and Frankie, then usually the aspiring producers would turn up at Trax the next morning and beg to get their productions on vinyl. The deals were probably not great but the lure of holding your own record seemed to override all other considerations. And thus dozens of new careers were hatched.
Sources: The Trax Records anthology has been expertly compiled by Bill Brewster to feature the particular mixes that he favours and every track has been comprehensively re-mastered to the usual Harmless levels. The Trax volume will work nicely with the Sources DJ International and Underground volumes which, together, give a comprehensive overview of the birth of the House music scene in Chicago.