Sources: The Streetwise Records Anthology
Various Artists
Sources: The Streetwise Records Anthology
Various Artists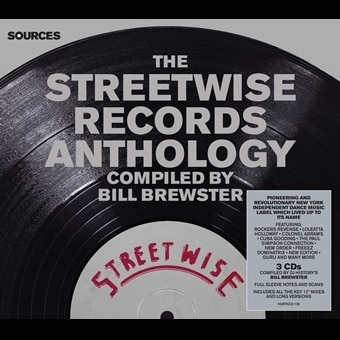 Release information
Release information
Label: Edsel
• Format: CD, Digital
• Date: 20/11/2015
Cat#: HURTXCD136
• Barcode: 5014797021365
• Genre: Dance
Track Listing
Walking On Sunshine (Original 12"" Mix) - Rockers Revenge
Jet Set (Original 12"" Mix) - Dr John
Crash Goes Love (Original 12"" Mix) - Loleatta Holloway
Don't Take Your Love Away (Original 12"" Mix) - Pushé
Music Is The Answer (Original 12"" Mix) - Colonel Abrams
Use Me Lose Me (Original 12"" Mix) - Paul Simpson Connection
Happiness Is Just Around The Bend (Original 12"" Mix) - Cuba Gooding
Got The Hots (Original 12"" Mix) - Cuba Gooding
Rock To Rock (Original 12"" Mix) - Citispeak
Ease Your Mind (Original 12"" U.S. Remix) - Touchdown
Where Is My Man (Original 12"" Mix) - Eartha Kitt
I.O.U. (Original 12"" Mix) - Freeez
Candy Girl (Original 12"" Mix) - New Edition
Confusion (Original 12"" Mix) - New Order
Pass The Beat (Original Album Version) - New Edition
Be My Girl (Original 12"" Mix) - Pee Wee
All In Fun (Original 12"" Mix) - Nyhtjar
The Dominatrix Sleeps Tonight (Original 12"" Dominant Mix) - Dominatrix
In The Night (Original 12""Dub Mix) - Zenobia
Girls Night Out (Original 12"" Mix) - Ladies Choice
Coldblooded (Original 12""Dub Mix) - Al Baby Green
Funky Soul Makossa (Original 12"" Mix) - Nairobi & The Awesome Foursome
Sucker DJs (I Will Survive) (Original 12"" Mix) - Dimples D
Funky Breakdown (Original 12"" Mix) - Awesome Foursome
Bop Till I Drop (Original 12"" Bop Mix) - Larrice
See The Light/Feel The Heat (Original 12"" Mix) - Air Force 1
Rise Up (Original 12"" Dub Rise Mix) - Moja Nya
I Don't Need Your Handouts (Original 12"" Instrumental Mix) - Citispeak feat Jeanne Harris
Who You Stealin' From (Original 12"" Mix) - Guru
What Are We Gonna Do? (Original 12"" Mix) - Ultimate 3 MCs
Roxanne's A Man (The Untold Story) (Original 12"" Mix) - Ralph Rolle
Scratch Goes My Dub (Original 12"" Dub Mix) - Freeez
It's Yours (Original Radio Mix) - T La Rock & Jazzy Jay
About this release
Sources is a brand new series which will examine the output of a number of extremely influential independent U.S. labels throughout the 1970s, 1980s and 1990s.
The ninth release in the Sources series focuses on one of the more unique New York independent record labels of the early to mid-1980s. Originally created by producer extraordinaire Arthur Baker, the label managed a dazzling array of hit records from the start with huge international smashes by Rockers Revenge, Freeeze and New Edition. The label was also responsible for signing some left-field records like Dr John's "Jet Set", the weird and wonderful Dominatrix with "The Dominatrix Sleeps Tonight and even New Order with "Confusion", displaying a wide-reaching grasp of different styles. No record was too bizarre for Streetwise who licensed in the pumping jazz-funk of Touchdown's "Ease Your Mind" and
even Eartha Kitt's Gay anthem "Where Is My Man". The label dominated the U.S. and U.K. Dance charts with a plethora of releases like Colonel Abrams early Garage anthem "Music Is The Answer", Cuba Gooding's fantastic re-make of "Happiness Is Just Around The Bend" and even veteran diva Loleatta Holloway with the brittle "Crash Goes Love". They were also in early on the Rap/Hip-Hop scene with Dimples D, Guru and T La Rock & Jazzy Jay.
As with all Sources releases, this is another deep dip into New York club culture and Streetwise was pretty much as close to the streets as the name suggests.