Sources: The Sam Records Anthology
Various Artists
Sources: The Sam Records Anthology
Various Artists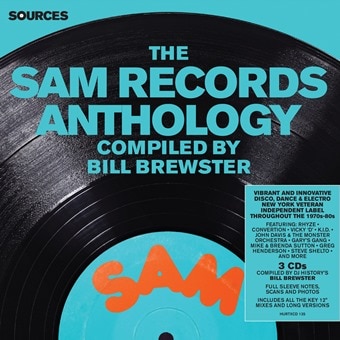 Release information
Release information
Label: Edsel
• Format: CD
• Date: 29/06/2015
Cat#: HURTXCD135
• Barcode: 5014797021358
• Genre: Dance
Track Listing
Woman Of The Ghetto - Doris Duke Original UK Only 12" Club Mix
Free - Rhyze Extended 12" Remix
We'll Make It - Mike & Brenda Sutton Original 12" Club Mix
Bourgie Bourgie - John Davis & The Monster Orchestra Original 12" Club Mix
Let's Do It - Convertion Original 12" Club Mix
Don't Stop - K.I.D. Extended 12" Remix
This Beat Is Mine - Vicky 'D' Original 12" Club Mix
Singing & Dancing - Rhyze Original 12" Club Mix
Keep On Dancing - Gary's Gang Original 12" Club Mix
Just Let Me Dance - Scandal Original Jim Burgess 12" Club Mix
All Wrapped Up - The Evasions Original Jonathan Fearing 12" Club Edit Mix
Feel Alright - Komiko Original 12" Club Mix
I've Got The Hots For You - John Davis & The Monster Orchestra Original Album Version
Hupendi Muzik Wangu?! (You Don't Like My Music) - K.I.D. Original Jonathan Fearing 12" Club Mix
Up Jumped The Devil - John Davis & The Monster Orchestra Original 12" Club Mix
Just How Sweet Is Your Love - Rhyze Original 12" Club Mix
I Wanna Do It - Scandal ft. Lee Genesis Original 12" Club Mix
Don't Hold Back - Mike & Brenda Sutton Original 12" Club Mix
Gotta Get Out Of Here - Lucy Hawkins Original 12" Club Mix
Behind My Back - Underground Original 12" Club Mix
Can You Really See Me - Sound Troupe Original Gary Turnier & Mark Berry 12" Club Mix
Don't Let Go Of Me (Grip My Hips And Move Me) - Mike & Brenda Sutton Original Shep Pettibone 12" Club Mix
You Can't Stop - David McPherson Original Shep Pettibone 12" Club Mix
Do Your Dance - Rhyze Original Album Version
It's Hot (Take It To The Top) - K.I.D. Original 12" Club Mix
I Can't Stop - John Davis & The Monster Orchestra Original 12" Club Mix
Love Either Grows Or Goes - Scandal ft. Lee Genesis Original 12" Club Mix
Rock Shock - B.B.C.S. & A. Original 12" Club Mix
Let's Lovedance Tonight - Gary's Gang Original Album Version
Hold On - Kreamcicle Original John 'Jellybean' Benitez 1 2" Club Mix
Dreamin' - Greg Henderson Original 12" Club Mix
Under The Wear - The Webboes Original Webboe 12" Mix
Don't You Give Your Love Away - Steve Shelto Original Shep Pettibone 12" Club Mix
Somebody's Loving You - Klassique Original Ray Reid 12" Club Mix
Anyway You Want My Love - Mike & Brenda Sutton Original Album Version
Doin' It - Underground Original 12" Club Mix
Love Magic - John Davis & The Monster Orchestra Original 12" Club Mix
I Found Love In You - Rhyze Original 12" Club Mix
About this release
Sources is a brand new series which will examine the output of a number of extremely influential independent U.S. labels throughout the 1970s, 1980s and 1990s. In an age where corporate anonymity reigns supreme and music is being treated like aural wallpaper, the Sources series will go back to a time when record labels really meant something via their A&R policies, their ground-breaking releases, their everyday modus-operandi and their general philosophies. What made these operations unique? How did they manage to compete with the major companies? How did they protect their artist rosters? What sort of
people ran these operations and how did they manage to survive in the cut-throat music business?
The fourth package in the Sources series covers one of the most loved New York independent record labels ever, the iconic Sam Records. Formed by industry veteran Sam Weiss in 1975, the label launched with a the killer atmospheric funk anthem "Woman Of The Ghetto" by Doris Duke before heading into Disco territory with several hugely successful albums from John Davis & The Monster Orchestra before hitting big internationally with a brace of Disco smashes from Gary's Gang including their most successful single "Keep On Dancing". By the beginning of the 1980s Sam managed to deftly circumnavigate the Disco backlash and re-invent themselves as a bona-fide 80s Dance label immediately scoring with Rhyze's "Just How Sweet Is Your Love", Convertion's "Let's Do It", Scandal's "Just Let Me Dance", K.I.D.'s "Don't Stop" and Mike & Brenda Sutton's "We'll Make It" among others. This proved to be a fortuitous direction and by the end of 1982 Sam had scored high-profile successes with Vicky 'D''s "This Beat Is Mine", Komiko's "Feel Alright", The Evasion's "Wikka Wrap", K.I.D.'s "Hupendi Muziki Wangu?! (You Don't Like My Music)" and the sumptuous "Dreaming" by Greg Henderson. Sam's impressive dance hit tally continued into 1983 with further successes like Steve Shelto's pumping "Don't Give Your Love Away" and Klassique's "Somebody's Loving You" before the label wound down for much of the next decade. Over the ensuing 30+ years Sam's 70s and 80s releases have seldom been off DJs turntables whether via the Disco, Rare- Groove and Electro scenes or by the almost relentless re-edits that appear of Sam's main output throughout this period. 'Sources: The Sam Records Anthology' continues the run of comprehensive anthologies of the most important labels in the evolution of Dance music.