Sources: The P&P Records Funk & Rap Anthology
Various Artists
Sources: The P&P Records Funk & Rap Anthology
Various Artists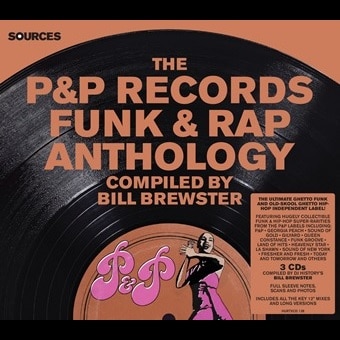 Release information
Release information
Label: Edsel
• Format: CD, Digital
• Date: 04/09/2015
Cat#: HURTXCD138
• Barcode: 5014797021389
• Genre: Funk
Track Listing
Ain't It Time (Original Club 12"" Mix) - Queen Yahna
Black Ice (Original 7"" Mix) - Sons Of Darkness
I've Been Working (Original 7"" Mix) - Wild Honey
Shake Off That Dream (Original 7"" Mix) - Eddie Owen
The Groove I'm In (Original 7"" Mix) - Florence Miller
Here's To You (Original Club 12"" Mix) - Ella Hamilton
NY Applejack (Original Album Version) - Scott Davis & The Movements
Who's Gonna (Original Album Version) - Otis Turner
I'm Coming Back To Life Again (Original 7"" Mix) - Florence Miller
The Greatest Debt To My Mother (Original 7"" Mix) - Henry Brooks
It's Party Time With Getting In The Groove Pt 2 (Original 7"" Mix) - Sentimental Souls
Long Time Ago (But I Wish Today Was Yesterday) (Original 7"" Mix) - Smokie Brook
Freaktime (Original Club 12"" Mix) - Scott Davis & The Movements
I Believe In Love (Original 7"" Mix) - Florence Miller
Do The Funky Donkey (Original 7"" Mix) - Otis Turner & The Mighty Kingpins
Feel The Spirit (Original Club 12"" Mix) - Foster Jackson Group
Dance To The Music Freakout (Original Club 12"" Mix) - Wayne Forde & Stereo
God's Greatest Gift To Man Is A Woman (Original Club 12"" Mix) - Margie Lomax
School'n (Put Your Mind To The Message) (Original Club 12"" Mix) - Sherod
Family Rap (Original Club 12"" Mix) - Family
Tricky Tee Rap (Original Club 12"" Mix) - Troy Rainey
Spoonin Rap (Original Club 12"" Mix) - Spoonin G
Death Rap (Original Club 12"" Mix) - Margo's Kool Out Crew
A Game Of Life (Original Club 12"" Mix) - Lavaba & E. Mallison
Boogie Feelin' Rap (Original Club 12"" Mix) - Sweet G
Scoopy Rap (Original Club 12"" Mix) - Scoopy
Willie Rap (Original Club 12"" Mix) - Willie Wood & Willie Wood Crew
Fly Guy Rap (Original Club 12"" Mix) - Fly Guy
Equidity Funk (Original Club 12"" Mix) - Mistafide
Roller Rink Funk (Original Club 12"" Mix) - Shift
Big Foot Boogie (Original Club 12"" Mix) - Brisko The Kidd
This Is The Way You Do The Breakdance (Original Club 12"" Mix) - Super Coper & Clarence Breakers
One Time Two Time Blow Your Mind (Original Club 12"" Mix) - (MC) Rock Lovely
Win Jesse Win (Original Club 12"" Mix) - Stack
Sweet Naomi Rap (Original Club 12"" Mix) - Naomi Peterson
CC Crew Rap (Original Club 12"" Mix) - CC Crew
Roller Rooster Rap Dance (Original Club 12"" Mix) - Fresh Female
It's Rough (Original Club 12"" Mix) - The Imperial Three
Hip Shaker (Original Club 12"" Mix) - Two Hype
Gangster Rock (Original Club 12"" Mix) - Little Starski
Smooth Talk (Original Club 12"" Mix) - Mr Fox
Shout At The Disco (Original Club 12"" Mix) - Little Scotty
About this release
The sixth Sources package also comes from one of the most collectible Black Music labels of all-time – the highly enigmatic and mysterious P&P Records. P&P Records was the company founded by Harlem based Peter Brown – an operator of the highest degree in terms of productivity and the sheer amount of releases which came out on a bewildering array of labels like P&P, Georgia Peach, Sound Of Gold, Gilyard, Queen Constance, Funk Groove, Land Of Hits, Heavenly Star, La Shawn, Sound Of New York, Fresher And Fresh and Today And Tomorrow amongst the ones which are known. Most of these releases were personally distributed by Peter Brown throughout Harlem and New York but most through the independent and 'Mom & Pop' stores which meant their distribution was limited and mainly within the New York area. Most P&P original releases are now highly collectible with many selling for several hundred pounds a copy, IF you can find one!
P&P Records is such an enigma that untangling the releases, different labels and year of release is an ongoing task. Some P&P Records have only recently been discovered, some P&P releases have never been found and there will be several P&P releases that have yet to be unearthed. As of 2015, there is no accurate listing and releases like 'Sources: The P&P Records Anthologies' are probably more like works in progress.
We divided the P&P catalogue that we know about into two different packages – 'Sources: The P&P Records Soul & Disco Anthology' and 'Sources: The P&P Records Funk & Rap Anthology' since the label spanned all these areas.
The P&P Records Funk & Rap volume probably contains over £4000 worth of records at their current value, since P&P is pretty much the most collectible group of labels for Funk and Rap output, or, 'Ghetto Funk' for short. Plus the mostly crude recordings and mastering techniques are now in fashion as people search for more 'earthly' natural records rather than the highly polished records from the era. Having said this, 'Sources: The P&P Records Funk & Rap Anthology' has been extensively re-mastered so that these records can be heard properly for perhaps the first time. The collectors of P&P were right. The scope and diversity of P&P Records is testament to the hustling skills of Peter Brown – perhaps the ultimate Harlem hustler. Who'd have thought that a scuffling set of badly-distributed Ghetto records from the 70s and 80s, would become the most collectible labels in the world some 40 years later? P&P we salute you!