Sources: The Fresh Records Anthology
Various Artists
Sources: The Fresh Records Anthology
Various Artists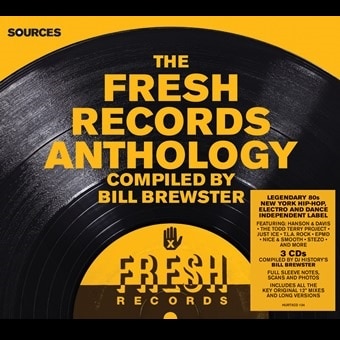 Release information
Release information
Label: Edsel
• Format: CD
• Date: 27/04/2015
Cat#: HURTXCD134
• Barcode: 5014797021341
• Genre: Dance
Track Listing
Never Gonna Let You Go - Chandra Simmons Original Club 12" Mix
The Todd Terry Project - Original Todd Terry Club Bang 12" Mix
Hungry For Your Love - Hanson & Davis Original Hanson & Davis Dub 12" Mix
Last Chance - Cyré Original Jose 'Animal' Diaz Last Dub 12" Mix
Weekend - The Todd Terry Project Original Todd Terry Club 12" Remix
I'll Take You On - Hanson & Davis Original Larry Levan Dub 12" Mix
Just Wanna Dance - The Todd Terry Project Original Todd Terry Club 12" Mix
Across 110th Street - El Barrio Original Eddie 'Love' Arroyo Barrio 12" Mix
Come Together - Hanson & Davis Original Timmy Regisford Dub 12" Mix
Back To The Beat - The Todd Terry Project Original Todd Terry Club 12" Mix
Tonight - Hanson & Davis Original Hanson & Davis/Timmy Regisford Dub 12" Mix
We Can Dance - Chandra Simmons Original Manhattan Club 12" Mix
Can't Stop - Hanson & Davis Original Vocal Dub 12" Mix
Put That Record Back On - Just Ice Original Mantronik 12" Mix
Latoya - Just Ice Original Biggy Rat & Itchy Brother 12" Mix
Cold Getting Dumb - Just Ice Original Mantronik 12" Mix
Back To The Old School - Just Ice Original Album Mix
Turbo Charged - Just Ice Original Album Mix
Love Story - Just Ice Original Album Mix
Moshitup - Just Ice Original Album Mix
Back To Burn - T La Rock Original Mantronik 12" Mix
This Beat Kicks - T La Rock Original Club 12" Mix
He's Incredible - T La Rock Original Club 12" Mix
Breaking Bells - T La Rock Original Mantronik 12" Mix
T La Rock Rockin The Party - T La Rock Original Club 12" Mix
It's Time To Chill - T La Rock Original Album Mix
I'm Getting Mine - T La Rock Original Album Mix
It's Yours (Remix) - T La Rock Original Todd Terry 12" Radio Remix
Lyrical King - T La Rock Original Album Mix
It's My Thing - EPMD Original Charlie Marotta Club 12" Mix
To The Max - Stezo Original Radio 12" Mix
Made By The Man - The Todd Terry Project Original Album Mix
You're A Customer - EPMD Original Album Mix
Bring The Horns - Stezo Original Album Mix
Funky For You - Nice & Smooth Original 12" Mix
Strictly Business - EPMD Original EPMD Club 12" Mix
It's My Turn - Stezo Original Radio 12" Mix
More & More Hits - Nice & Smooth Original 12" Mix
You Gots To Chill - EPMD Original Album Mix
Just Rhymin' - MC EZ & Troup Original 12" Mix
Succe$$ I$ The Word - Original Mantronik 12" Mix
Dope Not Hype - Nice & Smooth Original Album Mix
So Wat Cha Sayin' - EPMD Original EPMD Club 12" Mix
Get Retarded - MC EZ & Troup Original 12" Mix
It Wasn't Me It Was The Fame - EPMD Original Album Mix
Freak The Funk - Stezo Original Album Mix
About this release
Sources is a brand new series which will examine the output of a number of extremely influential independent U.S. labels throughout the 1970s, 1980s and 1990s.
In an age where corporate anonymity reigns supreme and music is being treated like aural wallpaper, the Sources series will go back to a time when record labels really meant something via their A&R policies, their ground-breaking releases, their everyday modus-operandi and their general philosophies. What made these operations unique? How did they manage to compete with the major companies? How did they protect their artist rosters? What sort of people ran these operations and how did they manage to survive in the cut-throat music business? Bill Brewster, co-founder of the influential DJ History website and forum and author of the acclaimed "Last Night A D.J. Saved My Life" will be compiling and writing the sleeve notes for the series. The first six releases will concentrate on 6 New York independent labels which have each been massively influential in the evolvement of Dance Music over the last 30+ years – Easy Street, Fresh, Sleeping Bag, Sam, Streetwise and P&P.
Each 3 x CD package will be full of lovingly re-mastered original 12" mixes as selected by Bill. These will include many tracks which have never made it to CD before and you can be sure that a variety of 'secret weapons' will emerge from each of these packages! All notes and scans will be included in a 16 page colour booklet which fits beautifully within the 3CD superior digipack. The usual Harmless PR and Radio operation will support all Sources releases.
The second Sources package comes from one of the most consistently interesting underground independent labels in both Dance Music and Hip-Hop/Rap history – Fresh Records from New York. The label was founded in 1985 as a sister label to Sleeping Bag but with more emphasis on the rapidly emerging Hip-Hop and Rap audiences as well as some cutting edge Dance grooves. They set the template with four blistering releases from electro-dancefloor duo Hanson & Davis, old-skool rapper T.L.A. Rock, the ultra-menacing gangsta rapper Just Ice and the Mantronix produced 12:41. The label continued to release some huge cutting-edge dancefloor smashes with The Todd Terry Project which exploded internationally with "Bango", "Back To The Beat", "Weekend" and "Just Wanna Dance" before the label went on to find mainstream U.S. chart
successes with Hip-Hop acts EPMD, Nice & Smooth and Stezo. Fresh Records ruled the roost between 1985 and 1982 when parent label Sleeping Bag eventually floundered. Once again this is an essential package for anyone who wants to re-experience the culture of the New York
Dance and Hip-Hop scenes from the mid 1980s to the early 90s. Fresh Records were truly ahead of the pack and produced records which were exactly as described on the label!