So Natural
Lisa Stansfield
So Natural
Lisa Stansfield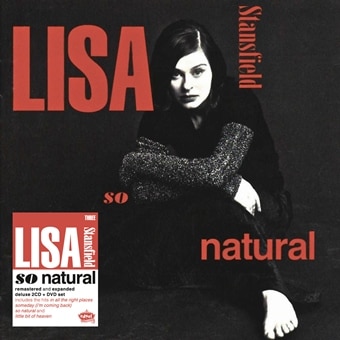 Release information
Release information
Label: Edsel
• Format: CD, DVD & Blu-ray
• Date: 10/11/2014
Cat#: EDSG8055
• Barcode: 740155805531
• Genre: Dance, Pop
Track Listing
So Natural
Never Set Me Free
I Give You Everything
Marvelous & Mine
Goodbye
Little Bit Of Heaven
Sweet Memories
She's Always There
Too Much Love Makin'
Turn Me On
Be Mine
In All The Right Places
Wish It Could Always Be This Way
Gonna Try It Anyway
So Natural (Be Boy Mix)
Little Bit Of Heaven (Bad Yard Club Mix)
Someday (I'm Coming Back)
In All The Right Places (Soundtrack Version)
So Natural (US Remix)
I Give You Everything (US Remix)
Little Bit Of Heaven (Junior Vocal Mix)
Someday (I'm Coming Back) (Absolute Remix)
So Natural (No Preservatives Mix)
Little Bit Of Heaven (Seventh Heaven Vocal Mix)
Marvellous & Mine (Sure Is Pure Mix)
So Natural (Roger's Club Mix)
Little Bit Of Heaven (Roach Motel Dub)
Someday (I'm Coming Back) (Classic 12" Club Mix)
Someday (I'm Coming Back)
In All The Right Places
So Natural
Little Bit Of Heaven
So Natural (Natural Cut Version)
2014 Interview with Mark Goodier
About this release
Perhaps Lisa's most personal work to date, 1993's So Natural included such hits as In All The Right Places, a classic collaboration with the legendary John Barry, the dance floor favourite Little Bit Of Heaven and the intimate title track.
This remastered Deluxe Edition is expanded to feature the Top Ten hit Someday (I'm Coming Back) from The Bodyguard soundtrack, rare tracks and 12″ mixes plus videos, live footage and a specially recorded interview with Lisa. The 28-page casebound book features photos, memorabilia, lyrics and brand new sleeve notes.
The DVD features promo videos and an interview with Mark Goodier.