Smokie – Gold
Smokie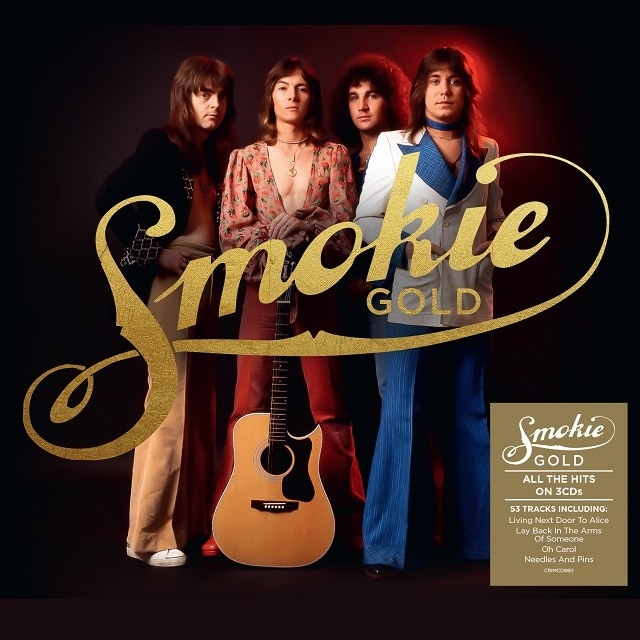 Release information
Release information
Label: Crimson Productions
• Format: CD
• Date: 28/08/2020
Cat#: CRIMCD680
• Barcode: 0654378068027
• Genre: Rock
Sub Genre: Glam Rock
Track Listing
Pass It Around
Couldn't Live
Goin' Tomorrow
I Do Declare
Headspin
If You Think You Know How to Love Me
Don't Play Your Rock 'N' Roll to Me
It's Natural
We're Flyin' High
Changing All the Time
Back to Bradford
Something's Been Making Me Blue
Wild Wild Angels
Poor Lady (Midnight Baby)
Stranger
Going Home
The Loser
I'll Meet You At Midnight
Living Next Door to Alice
Run to You
It's Your Life
I Can't Stay Here Tonight
Think of Me
In The Heat of the Night
Needles and Pins
No One Could Ever Love You More
For a Few Dollars More
Baby It's You
Lay Back in the Arms of Someone
The Girl Can't Help It
Power of Love
Mexican Girl
Oh Carol
Will You Love Me
Liverpool Docks
The Other Side of the Road
Do to Me
London's Burning
Babe It's Up to You
All Alone
San Francisco Bay
Take Good Care of My Baby
Your Love Is Good for Me
Songs
I Wanna Kiss Your Lips
Run to Me
Little Town Flirt
Jet Lagged
Love Remains a Stranger
Falling for You
Can You Feel My Heartbeat
Long Way from Home
The Book
About this release
Crimson presents Smokie 'Gold', the only Smokie compilation you'll ever need.
Formed in Bradford, Yorkshire, Smokie rose to fame in the 1970s and found chart success with their signature glam-pop sound. This career spanning 3-disc compilation includes all of the group's biggest hits including 'Living Next Door To Alice', 'It's Your Life', ' Oh Carol', 'Lay Back In The Arms Of Someone' and 'Have You Ever Seen The Rain'.
CD 1 covers the period of 1975-1976 including classics tracks 'Don't Play Your Rock 'N' Roll To Me' and 'If You Think You Know How To Love Me' which both peaked at #3 in the UK singles chart.
CD 2 opens with Smokie's international hit 'Living Next Door To Alice' which was a #1 hit in 7 countries. Other hits included on this disc include 'Oh Carol' and 'Lay Back In The Arms Of Someone'.
CD 3 concludes the set with tracks from the end of Smokie's classic era, including the singles 'Take Good Care Of My Baby', 'Little Town Flirt' and 'Jet Lagged'.
Extra information about this release