Singles (Vinyl)
The Everly Brothers
Singles (Vinyl)
The Everly Brothers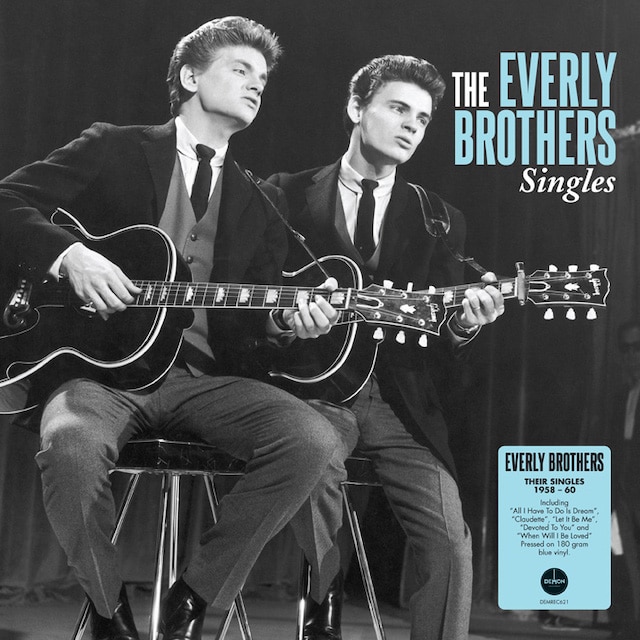 Release information
Release information
Label: Edsel
• Format: Vinyl
• Date: 28/02/2020
Cat#: DEMREC621
• Barcode: 5014797901858
• Genre: Country, Rock
Track Listing
All I Have To Do Is Dream
Claudette
Bird Dog
Devoted To You
Problems
Love Of My Life
Take A Message To Mary
Poor Jenny (Ten O'Clock version)
('Til) I Kissed You
Oh, What A Feeling
Let It Be Me
Since You Broke My Heart
When Will I Be Loved
Like Strangers
About this release
The blending of Don and Phil Everly's voices is truly one of the great sounds of post-war American popular music. Recorded for the Cadence label in Nashville in 1958, their second album "Songs Our Daddy Taught Us" could be termed an early concept album. The twelve songs (none of which were hits) were Old School country – as the title says, songs known to Don and Phil's father – which celebrated the timeless quality of the music in an era when such celebrations might have been regarded as a retrograde step. It also anticipates the US Folk Revival that was soon to come.
This LP rounds up the Cadence singles A- and B-sides that didn't feature on their debut album, and is thus home to these perennially-popular worldwide hits, most of which went Top 10 in the US and UK: All I Have To Do Is Dream, Claudette, Bird Dog, Problems, Devoted To You, Take A Message To Mary, ('Til) I Kissed You, Let It Be Me, Poor Jenny and When Will I Be Loved.
The inner sleeve features annotation by Alan Robinson. The record is pressed on 180 gram blue vinyl.