Simon May: Doof Doof – The Autobiography Collection
Various Artists
Simon May: Doof Doof – The Autobiography Collection
Various Artists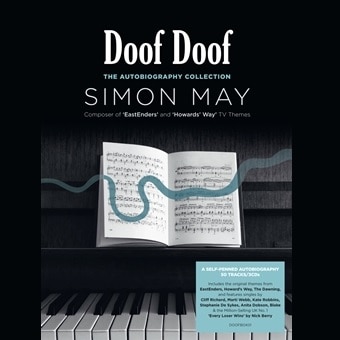 Release information
Release information
Label: Edsel
• Format: CD
• Date: 28/08/2015
Cat#: DOOFBOX01
• Barcode: 5014797893498
• Genre: Easy Listening, Pop
Track Listing
Eastenders Theme (Original 1985 BBC Recording) – The Simon May Orchestra
Howards' Way Theme – The Simon May Orchestra
Don't Let Life Get You Down – Simon May
Born With A Smile On My Face – Stephanie De Sykes with Rain
Summer Of My Life – Simon May
We'll Gather Lilacs/All My Loving – Simon May
More Than In Love – Kate Robbins & Beyond
Anyone Can Fall In Love – Anita Dobson & The Simon May Orchestra
Always There – Marti Webb & The Simon May Orchestra
Every Loser Wins – Nick Berry
Holiday Suite (From Holiday '86) – The Simon May Orchestra
The Olympic Track – The Simon May Orchestra
The Dawning – The Simon May Orchestra
People Like You – Melody & The Simon May Orchestra
More To Life (Theme from the TV Series 'Trainer') – Cliff Richard
When You Go Away (Vocal Theme from TV Series 'Eldorado') – Johnny Griggs & The Simon May Orchestra
Julia's Theme – The Simon May Orchestra
Step By Step – Glenesk School Choir & The Simon May Orchestra
I'll See You Again – Aldro School Choir & The Simon May Orchestra
Ever Since That Night – Mimi
It Hurts To Say Goodbye – Mimi
Castaway 2000 (Main Theme from the TV Series) – The Simon May Orchestra
Castaway 2000 (Reflective Theme from the TV Series) – The Simon May Orchestra
Animal Park (Main Theme from the TV Series) – The Simon May Orchestra
Animal Park (End Titles from the TV Series) – The Simon May Orchestra
In The Warm Light Of A Brand New Day – Matthew Paddon & The Simon May Orchestra & Choir
One More Chance – Jack Duxbury
All Of Me – Blake
Non Siamo Isole (We Are Not Islands) – Allan Adams
We Love Who We Love – Dave Willetts & Carol Woods
When You Are Beautiful – Simon May
By The River – James Keogh
I'm Drowning – James Keogh
Wolfgang – Simon May
Glory Be (To God On High) (Eastenders Hymn) – The Simon May Orchestra & Choirs
Barracuda (From the TV Series 'Howards' Way') – The Simon May Orchestra
Abbey's Theme (From the TV Series 'Howards' Way') – The Simon May Orchestra
Frere (From the TV Series 'Howards' Way') – The Simon May Orchestra
Howards' Way (Reflective Variation) – The Simon May Orchestra
Peggy's Theme – Simon May
Pat's Theme – Simon May
EastEnders Theme (Instrumental Soul Version) – The Simon May Orchestra
Summer In February – Simon May & John Brant
Grantchester 1 (Demo Of Main Theme 1) – Simon May & John Brant
Grantchester 2 (Demo Of Reflections Theme 1) – Simon May & John Brant
Grantchester 3 (Demo Of Theme 2) – Simon May & John Brant
Safe Haven – Simon May & Simon Lockyer
EastEnders Theme (Original Demo) – Simon May
You're Gonna Have A Good Time – Johnny Griggs & Rosanna Black
If You Have A Dream – Johnny Griggs & Rosanna Black
About this release
Simon May's music is probably better known than he is! One of his compositions has been heard on TV more than twice a week
for the last 30 years…'EastEnders'! Two of his legendary TV theme compositions both celebrate their 30th anniversary in 2015; 'EastEnders' and 'Howards' Way'.
This 3CD/50-Track box set features many of Simon's most famous compositions from the last 40 years. This collection goes back to the early-70s and follows Simon May's career up to the very recent past and includes hits by Cliff Richard (#23), Stephanie De Sykes (#2), Kate Robbins (#2), Marti Webb (#13) and Anita Dobson (#4), as well as his own 1976 Top 10 hit 'Summer Of My Life' (#7), the 2011 Royal Wedding-aligned single by Blake and a debut EXCLUSIVE of the ORIGINAL demo of the 'EastEnders' theme.
Also included is the Million-Selling UK No. 1, 'Every Loser Wins' by Nick Berry. Other themes include 'The Dawning', 'Castaway 2000', 'Animal Park', ITV's 1988 Seoul Olympics coverage theme, as well as several selections from the musical 'Smike!'.The booklet features a 24,000 word self-penned abridged version of his forthcoming autobiography. Special DVD-sized clam-shell packaging, for the perfect listening and reading experience.