Showaddywaddy – Gold
Showaddywaddy
Showaddywaddy – Gold
Showaddywaddy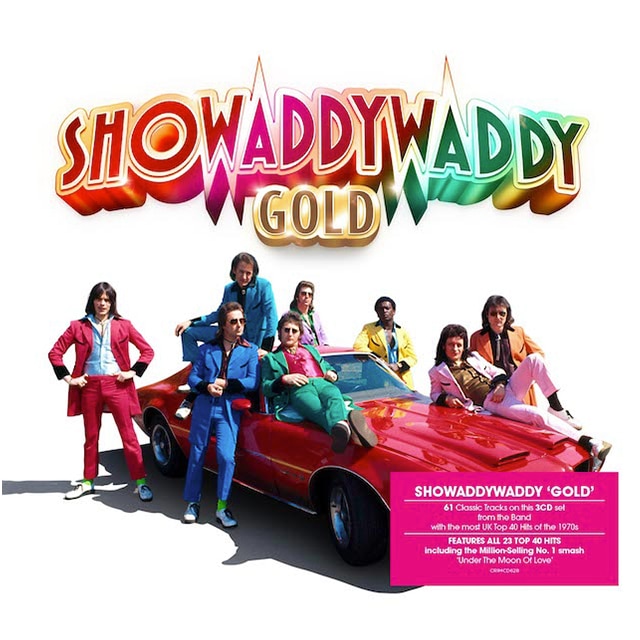 Release information
Release information
Label: Crimson Productions
• Format: CD
• Date: 19/04/2019
Cat#: CRIMCD628
• Barcode: 654378062827
• Genre: Rock
Sub Genre: Rock N' Roll
Track Listing
Under The Moon Of Love
Hey Rock And Roll
Sea Cruise
I Wonder Why
Sweet Georgia
I Wanna Take You Home
The Party
You Got What It Takes
That's Alright With Me
Lookin' Back
Good Times
Trocadero
(You've Got) Personality
Paint Your Picture
That's Rock & Roll
Pretty Little Angel Eyes
You Will Lose Your Love Tomorrow
Chain Gang
Shake
Three Steps To Heaven
Dancin' Party
Remember Then
Rollercoaster
Gypsy Rose-Lee
A Little Bit Of Soap
I Appreciate The Job
Sing On Louise
I Want You To Be My Girl
Who Put The Bomp (In The Bomp-A-Bomp-A-Bomp)?
Rock & Roll Music
In Above Your Head
Weekend
Heavenly
One Of These Days
Go Johnny Go
Sweet Music
Pretty Little One
Swansong
Always & Ever
Sweet Little Rock 'N' Roller
When
Multiplication
Blue Jean Baby
Cutie
Old Habits Die Hard
Johnny Remember Me
A Night At Daddy Gee's
(You're My) Soul And Inspiration
Record Machine
Heartbeat
Lost
Why Do Lovers Break Each Other's Hearts?
Feelin'
Rock 'N' Roll Lady
Then Came You
Goody Goody
Blue Moon
Foolin' Around With My Heart
Footsteps
I Can Do It
Hey Mister Christmas
About this release
19th April 2019 is the 45th Anniversary of the release of Showaddywaddy's debut hit
'Hey Rock And Roll'.
From their winning appearance on an edition of 'New Faces', the 'Britain's Got Talent' of the day, to become runners-up in the series' 'All Winners Final', it took just a matter of months until Showaddywaddy released their debut hit, 'Hey Rock And Roll'.
The single reached #2 in the UK Singles Chart.
Showaddywaddy eventually had more UK hits in the 1970s than any other act…including Abba!