Showaddywaddy – Gold (Gold Coloured Vinyl)
Showaddywaddy
Showaddywaddy – Gold (Gold Coloured Vinyl)
Showaddywaddy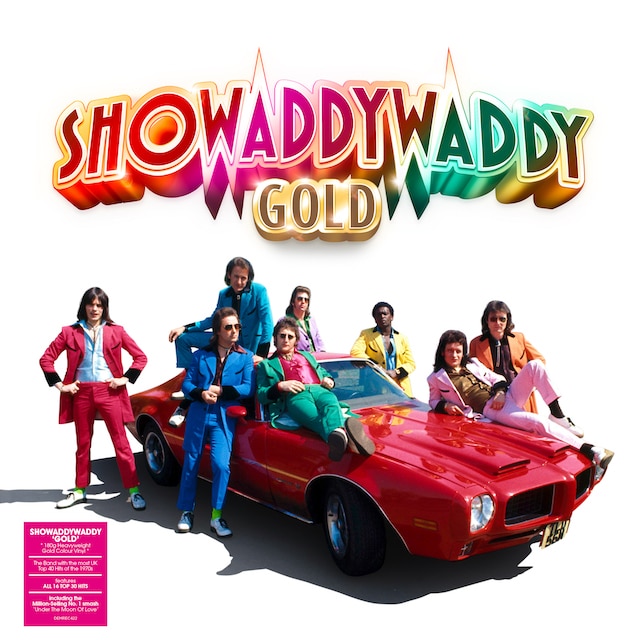 Release information
Release information
Label: Demon Records
• Format: Vinyl
• Date: 19/04/2019
Cat#: DEMREC422
• Barcode: 5014797899452
• Genre:
Track Listing
Under The Moon Of Love
You Got What It Takes
Hey Rock And Roll
Pretty Little Angel Eyes
Remember Then
Sweet Little Rock 'N' Roller
A Little Bit Of Soap
Why Do Lovers Break Each Other's Hearts?
Heartbeat
Three Steps To Heaven
Dancin' Party
When
Sweet Music
Rock 'N' Roll Lady
I Wonder Why
Hey Mister Christmas
About this release
19th April 2019 is the 45th Anniversary of the release of Showaddywaddy's debut hit 'Hey Rock And Roll'.
From their winning appearance on an edition of 'New Faces', the 'Britain's Got Talent' of the day, to become runners-up in the series' 'All Winners Final', it took just a matter of months until Showaddywaddy released, 'Hey Rock And Roll'.
The single reached #2 in the UK Singles Chart.
Showaddywaddy eventually had more UK hits in the 1970s than any other act…including Abba!
This 'Gold' vinyl LP collection, features the band's best-known hits, including nine Top Ten hits and the Million-Selling #1 single, 'Under The Moon Of Love', in this 16-track set.
The album is pressed on heavyweight 180g gold colour vinyl.
The album has an introductory note from the Band's co-founder Dave Bartram.