Shalamar – Gold
Shalamar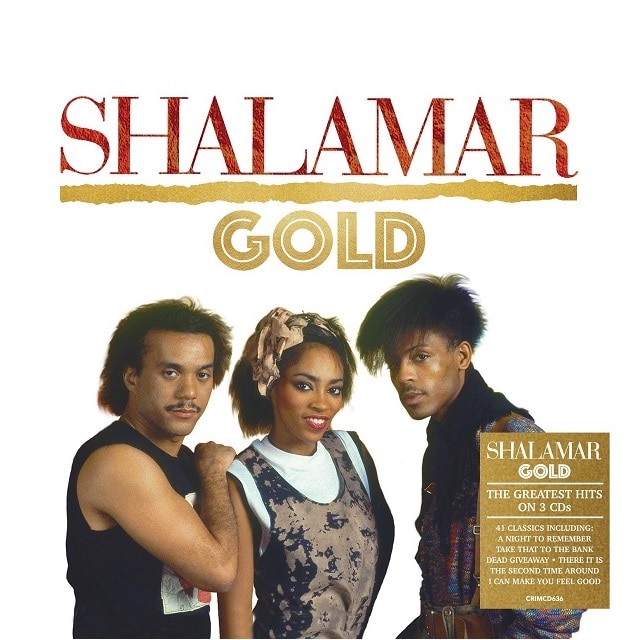 Release information
Release information
Label: Crimson Productions
• Format: CD
• Date: 19/07/2019
Cat#: CRIMCD636
• Barcode: 654378063626
• Genre: Disco, Funk, R&B and Soul
Track Listing
A Night To Remember (5:07)
The Second Time Around (4:11)
Make That Move (6:17)
Take That to The Bank (6:08)
Uptown Festival (8:51)
Right in The Socket (6:48)
Full Of Fire (6:18)
I Owe You One (5.08)
There It Is (4:29)
This Is for The Lover In You (5:05)
Sweeter As The Days Go By (3:45)
Ooo Baby, Baby (3:48)
Stay Close To Love (3:46)
Leave It All Up To Love (3:42)
The Right Time For Us (5:55)
Dead Giveaway (12" Dance Mix: 5:02)
I Can Make You Feel Good (4:20)
Talk To Me (6:09)
Work It Out (4:25)
Friends (5:02)
Over And Over (4:34)
You Can Count on Me (3:47)
Help Me (5:11)
You're The One For Me (5.00)
I Just Stopped By Because I Had To (4:10)
Somewhere There's A Love (4:23)
Let's Find The Time For Love (4:37)
I Don't Wanna Be The Last To Know (4:01)
Right Here (4:16)
Deadline U.S.A (12" Version)
Dancing In the Sheets [From "FOOTLOOSE"] (12" Dance Mix: 6.17)
My Girl Loves Me (12" Dance Mix: 6:48)
Disappearing Act (5:27)
Amnesia( 5:35)
Don't Get Stopped In Beverly Hills [From "BEVERLY HILLS COP"] (12" Dance Mix: 7:33)
Circumstantial Evidence (12" Dance Mix: 9:15)
I Want You (To Be My Playthang) (12" Dance Mix: 6:29)
Games (12" Dance Mix: 8:44)
A Night To Remember (12" M+M Remix: 8:49)
The Second Time Around (12" Disco Mix: 7:13)
Right in The Socket (12" Disco Mix: 6:44)
About this release
This 'Gold' 3CD collection, features all 24 of Shalamar's US and UK top 40 chart singles, all of which are included here in for the first time in their full-length versions and 12" disco mixes on this 41-track set.
Shalamar broke onto the disco scene in 1977, but 2019 marks the 40th Anniversary of the classic line-up formation of Howard Hewett, Jody Watley and Jeffrey Daniel, who set the UK charts alight throughout the early 80's with hits like 'Dead Giveaway' and 'There It Is.'
From their debut discofied Motown medley, 'Uptown Festival,' Shalamar became constant hit-makers on both the US R&B charts and the UK pop charts, scoring with the dance-floor classics
'Take That To The Bank,' 'The Second Time Around' and 'Make That Move.'
While promoting A Night To Remember' on 'Top of the Pops' in 1982, Jeffrey Daniel introduced UK audiences to the moon walk and started a body popping craze across the country. Their top ten album 'Friends' subsequently spent over a year on the chart and achieved platinum sales.
Shalamar's current line-up of Howard, Jeffrey and Carolyn Griffey still tour regularly in the UK and have closed every year since 2010 with a sell-out show at London's 02 Arena.