Sex & Drugs & Rock & Roll (Vinyl)
Ian Dury
Sex & Drugs & Rock & Roll (Vinyl)
Ian Dury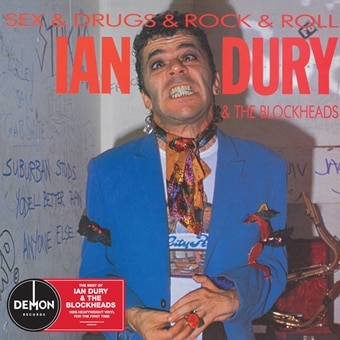 Release information
Release information
Label: Demon Records
• Format:
• Date: 11/11/2016
Cat#: DEMREC185
• Barcode: 5014797895355
• Genre: Rock
Track Listing
Hit Me With Your Rhythm Stick
I Want To Be Straight
There Ain't Half Been Some Clever Bastards
What A Waste!
Common As Muck
Reasons To Be Cheerful Pt.3
Sex And Drugs And Rock And Roll
Supermans Big Sister
Razzle In My Pocket
You're More Than Fair
Inbetweenies
You'll See Glimpses
About this release
Demon Records is proud to present classic 'Best Of' collections reissued on 180g heavyweight vinyl.
Ian Dury was considered a fringe figure of the Rock & Roll scene, but still managed to develop a fanatical cult following as a weird, yet beloved rock star. With his band The Blockheads, he rose to fame during the late 70s during the punk and new wave era of rock music.
This collection includes the hit singles Hit Me With Your Rhythm Stick, What A Waste, and the title track, Sex & Drugs & Rock & Roll.