Seventies Euro Classics (Vinyl)
Various Artists
Seventies Euro Classics (Vinyl)
Various Artists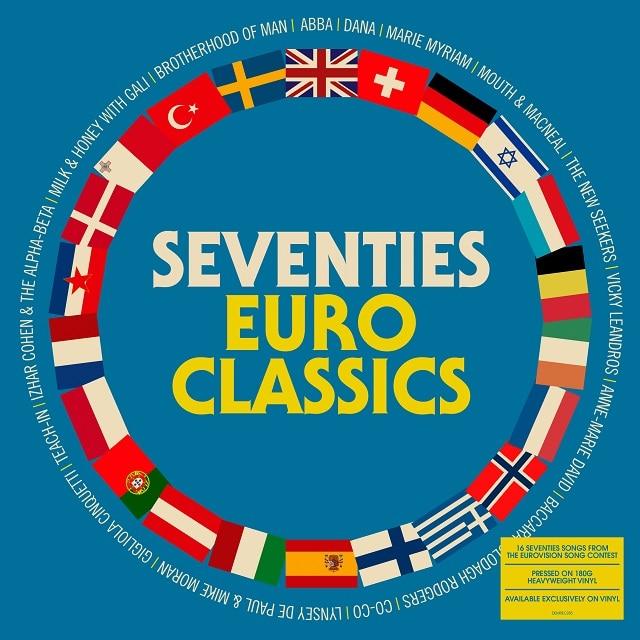 Release information
Release information
Label: Demon Records
• Format: Vinyl
• Date: 04/05/2018
Cat#: DEMREC285
• Barcode: 5014797897144
• Genre: Pop
Sub Genre: Classic Pop
Track Listing
ABBA - Waterloo
Teach-In - Ding-A-Dong
Mouth & MacNeal - I See A Star
Brotherhood Of Man - Save Your Kisses For Me
Anne-Marie David - Wonderful Dream
Gigliola Cinquetti - GO (Before you break my heart)
Vicky Leandros - Come What May
Marie Myriam - L'oiseau et l'enfant
Milk & Honey with Gali - Hallelujah
Baccara - Parlez-vous francais?
Co-Co - Bad Old Days
Izhar Cohen & The Alpha-Beta - A-Ba-Ni-Bi
Lynsey de Paul and Mike Moran - Rock Bottom
Clodagh Rodgers - Jack in the Box
The New Seekers - Beg, Steal Or Borrow
Dana - All Kinds Of Everything
About this release
Seventies Euro Classics is the Latest Exclusive to Vinyl release on Demon Records.
16 Of The Best 70s Song Entries to The Eurovision Song Contest housed in Euro Themed Sleeve with Original Artwork & Pressed on Single 180G Heavyweight Vinyl.
Timeless tracks from ABBA, Co-Co, Brotherhood Of Man, Baccara, Dana, The New Seekers, Anne-Marie David, Gigliola Cinquetti, Lynsey de Paul and Mike Moran + many more..
Extra information about this release