Scorpio Rising
Death In Vegas
Scorpio Rising
Death In Vegas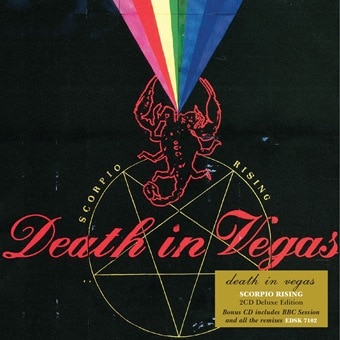 Release information
Release information
Label: Edsel
• Format: CD
• Date: 08/07/2016
Cat#: EDSK7102
• Barcode: 740155710231
• Genre: Rock
Sub Genre: Electronica
Track Listing
Leather
Girls
Hands Around My Throat
23 Lies
Scorpio Rising
Killing Smile
Natja
So You Say You Lost Your Baby
Diving Horses
Help Yourself
Natja (L.A.M.F.)
Natja (Zoo Station)
XXX
Diving Horses
Leather Girls
Put Your Hands Around My Throat
23 Lies
Scorpio
Scorpio Rising (The Polyphonic Spree Mix)
Scorpio Rising (The Scientist Remix)
Scorpio Rising (The Scientist Dub)
Scorpio Rising (Radio edit)
Hands Around My Throat (UBX Mix)
Hands Around My Throat (For The Throat Mix)
Hands Around My Throat (D.I.V.)
Hands Around My Throat (Adult. Remix)
About this release
Like its predecessor 'The Contino Sessions', 'Scorpio Rising' was another massive critical success on its release in September 2002, and it duly went Top 20 in the UK – again, a mind-blowing achievement for such an experimental, disparate and often macabre listening experience.
Guest vocalists include Paul Weller, Dot Allison, Susan Dillane, Hope Sandoval, and most headline-grabbingly at the time, Liam Gallagher took time out from production on Oasis's "Heathen Chemistry" album to voice the title track.
This special 2CD set brings together on a bonus disc all the mixes of the singles as well as a BBC Evening Session from the album's aftermath which gives a window onto how the Death In Vegas roadshow unfolded as a fully integrated live band. Liner notes by renowned music journalist Andrew Perry include interview with Richard Fearless.