Saxon: 10 Years Of Denim And Leather – Live 1990
Saxon
Saxon: 10 Years Of Denim And Leather – Live 1990
Saxon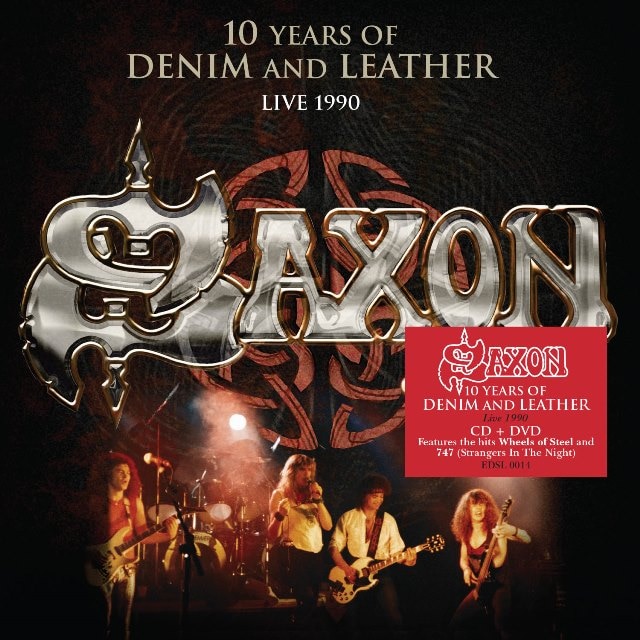 Release information
Release information
Label: Edsel
• Format: CD, Digital,
• Date: 24/11/2017
Cat#: EDSL0014
• Barcode: 740155721435
• Genre: Rock
Sub Genre: Hard Rock & Metal
Track Listing
Heavy Metal Thunder
Rock And Roll Gypsy
And The Bands Played On
Twenty Thousand Feet
Ride Like The Wind
Motor Cycle Man
747 (Strangers In The Night)
See The Light Shinin'
Frozen Rainbow
Strong Arm Of The Law
Princess Of The Night
Wheels Of Steel
Denim & Leather
The Crusader
Rockin' Again
Back On The Streets
About this release
Saxon are one of the leaders of the new wave of British Heavy Metal and are established as one of Europe's biggest metal acts, influencing the likes of Metallica, Mötley Crüe and Megadeth.
This live performance is being reissued on Demon for the first time as a CD/DVD package in a 3-panel digipak. Including many photos from photographer and friend of the band Wolfgang Guerster.
There will also be a limited run of double LP heavyweight coloured vinyl versions as a separate release. The track list is the same for vinyl, CD and DVD.