Rock 'n' Roll Jukebox (180g Pink Vinyl)
Showaddywaddy
Rock 'n' Roll Jukebox (180g Pink Vinyl)
Showaddywaddy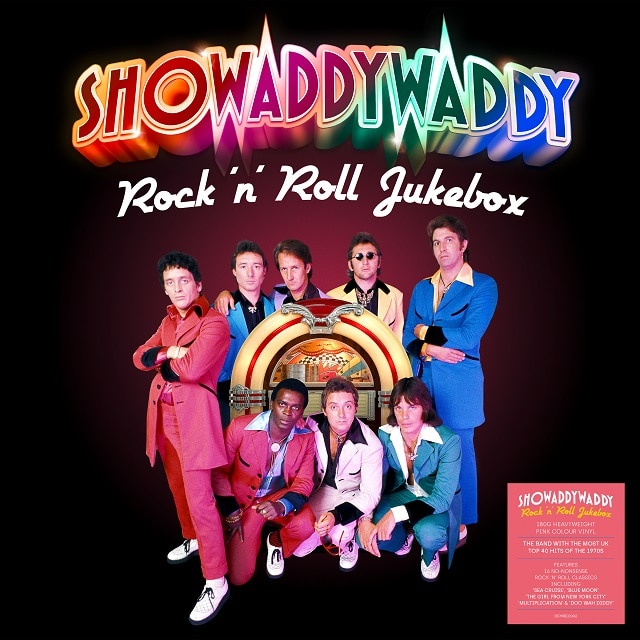 Release information
Release information
Label: Demon Records
• Format: Vinyl
• Date: 04/06/2021
Cat#: DEMREC902
• Barcode: 5014797905535
• Genre: Rock
Sub Genre: Rock N' Roll
Track Listing
Sea Cruise
The Girl From New York City
Multiplication
Johnny Remember Me
Who Put The Bomp (In The Bomp-A-Bomp-A-Bomp)
Chain Gang
Footsteps
Hey Girl Don't Bother Me
(You've Got) Personality
A Night At Daddy Gees
Ally-Oop
Blue Moon
Bony Moronie
Doo Wah Diddy
Jungle Rock
Good Times
About this release
SPECIAL EDITION – 180g PINK COLOUR VINYL
Showaddywaddy eventually had more UK hits in the 1970s than any other act…including Abba! From their winning appearance on an edition of 'New Faces', the 'Britain's Got Talent' of the day, to become runners-up in the series' 'All Winners Final', it took just a matter of months until Showaddywaddy released, 'Hey Rock And Roll'. The single reached #2 in the UK Singles Chart. The band are still lauded as one of the hardest working live bands in the UK, usually with more than 250 shows a year.
This vinyl LP collection, showcases the band's professionalism, in this no-nonsense 16 track rock 'n' roll set. The album includes their versions of 'Sea Cruise', 'Blue Moon', 'The Girl From New York City', 'Multiplication', 'Doo Wah Diddy' and a blistering performance of the Vanda/Young classic, 'Good Times', taken from Showaddywadddy's 1981 album of the same name.
The album is pressed on heavyweight 180g pink colour vinyl.