Return To The Last Chance Saloon (180g Red Vinyl)
The Bluetones
Return To The Last Chance Saloon (180g Red Vinyl)
The Bluetones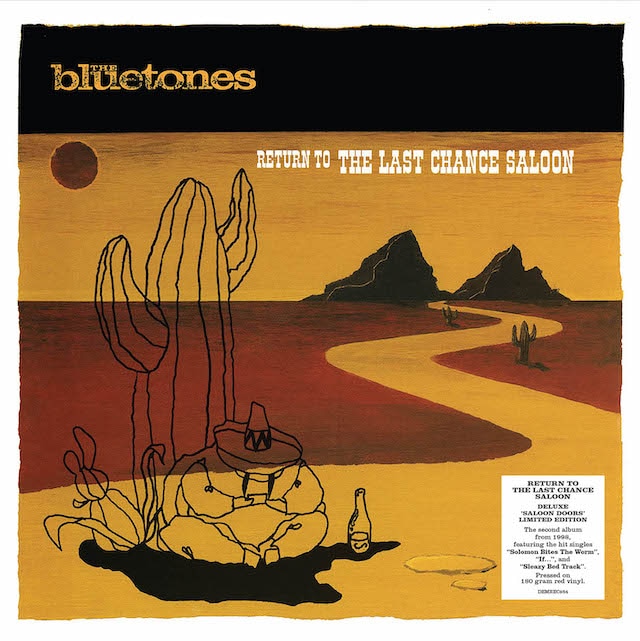 Release information
Release information
Label: Demon Records
• Format: Vinyl
• Date: 06/08/2021
Cat#: DEMREC854
• Barcode: 5014797904736
• Genre: Alternative, Indie
Sub Genre: Britpop
Track Listing
Tone Blooze
Unpainted Arizona
Solomon Bites The Worm
U.T.A.
4-Day Weekend
Sleazy Bed Track
If...
The Jub-Jub Bird
Sky Will Fall
Ames
Down At The Reservoir
Heard You Were Dead
Broken Starr
About this release
The Bluetones' second album "Return To The Last Chance Saloon" was preceded by another Top 10 single "Solomon Bites The Worm" in February 1998. Featuring some orchestral arrangements, the album was released in March, going straight into the Top 10 of the album chart. Two more hit singles were taken from the album: "If…" and "Sleazy Bed Track".
There was an extremely limited edition version of the vinyl release of the album – a gatefold sleeve with two opening 'wild west' saloon doors affixed to the inside of the gatefold sleeve. Demon Records is very proud to recreate this edition!
Pressed on 180g red vinyl.