Rastamouse: The Album – Makin' A Bad Ting Good
Rastamouse & Da Easy Crew
Rastamouse: The Album – Makin' A Bad Ting Good
Rastamouse & Da Easy Crew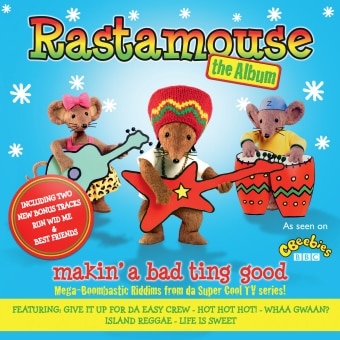 Release information
Release information
Label: Little Demon
• Format: CD
• Date: 18/03/2016
Cat#: LTDMG033
• Barcode: 5014797710337
• Genre: Children's
Track Listing
Give It Up for da Easy Crew (TV Series Theme Tune)
Hot Hot Hot!
Whaa Gwaan?
Life Is Sweet
Bandulu's Pie
Nuff Song Reggae Vibe
Grove Town
Forrest Scene
O-Oh! O-Oh!
Skatin'
Cookin' & Jammin'
Island Reggae
Everyone's a Winner
Dub Melodica
Da Rhymin' Teef
''Help!''
Bagga T Rap
On da Case
MC Mix-Mousta-Mixie!
Ice Popp
Best Friends
Run Wid Me
About this release
Rastamouse brings us the extended version of the album we have all come to love with two new bonus tracks, Run Wid Me and Best Friends. Rastamouse's super cool reggae and rap tunes from the smash hit children s TV animation series has become a phenomenon since launching on cBeebies and has quickly developed into one of the most popular children s shows in the UK.
Based on the successful range of books by Michael De Souza and Genevieve Webster, the critically acclaimed
TV series follows the adventures of cool, music-making, skateboarding, crime-fighting Rastamouse & Da Easy
Crew as they share their philosophy of Makin a Bad Ting Good.
The music and songs on The Album has been recorded with real instruments and will appeal to music fans of
all ages. Vocal / instrumental music clips and spoken word excerpts from the TV shows show have been extended, remixed and remastered with further vocals and new performances added.
Recommended titles