Pretenders
Pretenders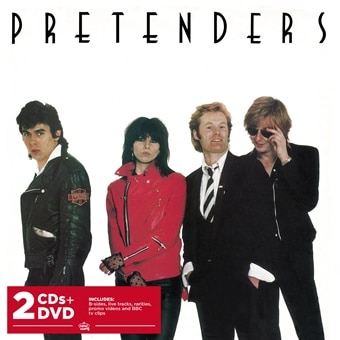 Release information
Release information
Label: Edsel
• Format: CD, DVD & Blu-ray
• Date: 16/02/2015
Cat#: EDSG8047
• Barcode: 740155804732
• Genre: Pop, Rock
Sub Genre: New Wave, Punk
Track Listing
Precious
The Phone Call
Up The Neck
Tattooed Love Boys
Space Invader
The Wait
Stop Your Sobbing
Kid
Private Life
Brass In Pocket
Lovers of Today
Mystery Achievement
Swinging London
Nervous But Shy
Cuban Slide
Porcelain
Precious [live]
Kid [1987 extended remix]
The Phone Call [late 1977]
Brass In Pocket [February 1978]
Precious [April 1978]
The Wait [April 1978]
Stop Your Sobbing [April 1978]
I Can't Control Myself [April 1978]
Tequila [April 1978]
Kid [December 1978]
Sabre Dance [The Marquee, April 1979]
I Need Somebody [The Kid Jensen Show, July 1979]
Mystery Achievement [The Kid Jensen Show, July 1979]
Precious [The Paradise Theatre, March 1980]
Tattooed Love Boys [The Paradise Theatre, March 1980]
Stop Your Sobbing
Kid
Brass In Pocket
Stop Your Sobbing [TOTP, February 1979]
Kid [TOTP, July 1979]
Brass In Pocket [TOTP, November 1979]
Brass In Pocket [TOTP, December 1979]
Kid [Swap Shop, December 1979]
Brass In Pocket [TOTP, January 1980]
About this release
Edsel is immensely proud to issue all eight Pretenders albums issued under the Warners banner from 1979 to 1999. All the reissues are presented in digipaks, six as 2 CD + DVD sets and two as CD + DVD sets, including b-sides, live tracks, songs for soundtracks, demos, rarities, promo videos and BBC TV appearances (most of which have not been issued commercially before).
The Pretenders burst onto the music scene in February 1979 with their debut single, a cover version of Ray Davies' "Stop Your Sobbing", produced by Nick Lowe. By the time the debut album, produced by Chris Thomas, arrived in January 1980, third single "Brass In Pocket (penned by Chrissie Hynde) was on its way to the number 1 spot, as was the album.
The nineteen bonus tracks, b-sides, live tracks and demos, while the DVD features the three promo videos along with six BBC TV appearances from Top Of The Pops and Swap Shop. The booklet in this digipack edition features all the lyrics for the first time, the singles sleeves photos.
CD1 – Pretenders (Tracks 1-12), B-Sides (tracks 13-18)
CD2 – Demos (tracks 1-8), Live (tracks 9-13)
DVD – Promos (tracks 1-3), Live Appearances (tracks 4-9)
Extra information about this release