Pretenders (Vinyl)
Pretenders
Pretenders (Vinyl)
Pretenders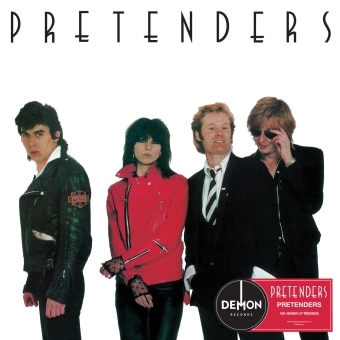 Release information
Release information
Label: Demon Records
• Format: Vinyl
• Date: 07/08/2015
Cat#: DEMREC101
• Barcode: 5014797892972
• Genre: Pop, Rock
Track Listing
Precious
The Phone Call
Up The Neck
Tattooed Love Boys
Space Invader
The Wait
Stop Your Sobbing
Kid
Private Life
Brass In Pocket
Lovers of Today
Mystery Achievement
About this release
Demon Records are excited to announce 8 x stunning individual vinyl issues of the Pretenders catalogue between 1980 – 1999.
The LP sets include studio album reissues and two albums released on the format for the first time, all cut from the latest digital remasters and pressed on high-quality 180-gram heavyweight black vinyl.
The Pretenders burst onto the music scene in February 1979 with their debut single, a cover version of Ray Davies' "Stop Your Sobbing", produced by Nick Lowe. By the time the debut album, produced by Chris Thomas, arrived in January 1980, third single "Brass In Pocket (penned by Chrissie Hynde) was on its way to the number 1 spot, as was the album.
Extra information about this release
Recommended titles