Pretenders 1979-1999: The Vinyl Collection
Pretenders
Pretenders 1979-1999: The Vinyl Collection
Pretenders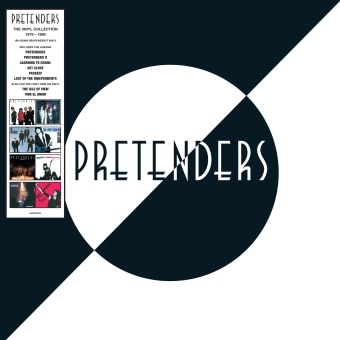 Release information
Release information
Label: Demon Records
• Format: Vinyl
• Date: 07/08/2015
Cat#: DEMRECBOX06
• Barcode: 5014797892965
• Genre: Pop, Rock
Track Listing
Precious
The Phone Call
Up The Neck
Tattooed Love Boys
Space Invader
The Wait
Stop Your Sobbing
Kid
Private Life
Brass In Pocket
Lovers of Today
Mystery Achievement
The Adultress
Bad Boys Get Spanked
Message Of Love
I Go To Sleep
Birds Of Paradise
Talk Of The Town
Pack It Up
Waste Not Want Not
Day After Day
Jealous Dogs
The English Roses
Louie Louie
Middle Of The Road
Back On The Chain Gang
Time The Avenger
Watching The Clothes
Show Me
Thumbelina
My City Was Gone
Thin Line Between Love And Hate
I Hurt You
2000 Miles
My Baby
When I Change My Life
Light Of The Moon
Dance!
Tradition Of Love
Don't Get Me Wrong
I Remember You
How Much Did You Get For Your Soul?
Chill Factor
Hymn To Her
Room Full Of Mirrors
Never Do That
Let's Make A Pact
Millionaires
May This Be Love
No Guarantee
When Will I See You?
Sense Of Purpose
Downtown (Akron)
How Do I Miss You?
Hold A Candle To This
Criminal
Hollywood Perfume
Night In My Veins
Money Talk
977
Revolution
All My Dreams
I'll Stand By You
I'm A Mother
Tequila
Every Mother's Son
Rebel Rock Me
Love Colours
Forever Young
Sense Of Purpose
Chill Factor
Private Life
Back On The Chain Gang
Kid
I Hurt You
Criminal
Brass In Pocket
2000 Miles
Hymn to Her
Lovers of Today
The Phone Call
I Go to Sleep
Revolution
The Isle of View
Popstar
Human
From The Heart Down
Nails In The Road
Who's Who
Dragway 42
Baby's Breath
One More Time
Legalise Me
Samurai
Rabo De Nube
Biker
About this release
This 9LP boxset brings together the eight albums released via Warners between 1979 – 1999. Pretenders (1980), Pretenders II (1981), Learning To Crawl (1984), Get Close (1986), Packed! (1990), Last Of The Independents (1994), The Isle Of View (2LP) (1995), and Viva El Amor! (1999) are all pressed on 180-gram heavyweight black vinyl, the latter 2 released for the first time on the format. All 8 albums feature original issue artwork replications and expansions, cut from the latest digital remasters and housed in a rigid slipcase.
LP1 – Pretenders
LP2 – Prentenders II
LP3 – Learning To Crawl
LP4 – Get Close
LP5 – Packed!
LP6 – Last of the Independents
LP7 & LP8 – The Isle Of View
LP9 – Viva El Amor!
Extra information about this release