Present The Battle Of The Bands
The Turtles
Present The Battle Of The Bands
The Turtles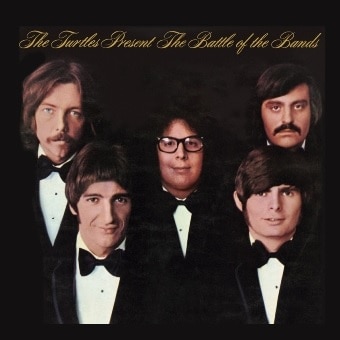 Release information
Release information
Label: Edsel
• Format: CD
• Date: 05/05/2017
Cat#: EDSK7120
• Barcode: 740155712037
• Genre: Pop, Rock
Track Listing
The Opening – The Battle Of The Bands
The Last Thing I Remember
Elenore
Too Much Heartsick Feeling
Oh, Daddy!
Buzz Saw
Surfer Dan
I'm Chief Kamanawanalea (We're The Royal Macadamia Nuts)
You Showed Me
Food
Chicken Little Was Right
The Closing – Earth Anthem (All)
She's My Girl
Chicken Little Was Right [single version]
Sound Asleep
Umbassa the Dragon
The Story Of Rock And Roll
Can't You Hear The Cows
The Last Thing I Remember (The First Thing I Knew) [alternate version]
The Owl [outtake]
To See The Sun [outtake]
Earth Anthem [alternate version]
Battle Of The Bands radio spot
About this release
The Turtles enjoyed eighteen US hit singles between 1965 and 1970, three of which ("Happy Together", "She'd Rather Be With Me" and "Elenore") were also huge hits in the UK. From their original incarnation as surf band The Crossfires, all the way to their final single, the Turtles traversed several different musical paths during their career. It is precisely this power through diversity that makes the Turtles' body of work one of the most rewarding and enjoyable of the 1960's – they never met a genre they didn't like. Edsel Records is proud to present the band's six albums, each as a 2 CD digipak set.
Produced by the Monkees' producer Chip Douglas, 'The Battle Of The Bands' (1968) features "Elenore" and saw the band assume a different musical persona for each track (or band, to use the American term – the original sleeve features photos of the different bands). The album also features Turtles' hit cover of the Roger McGuinn/Gene Clark song "You Showed Me", sampled by U2 and De La Soul, and sampled and covered by the Lightning Seeds in 1997. "I'm Chief Kamanawanalea (We're The Royal Macadamia Nuts)" has been sampled over sixty times.
The bonus CD features the three contemporary non-album singles (and their b-sides) along with album outtakes and alternate takes. With a booklet note by Andrew Sandoval, this 2 CD digipak edition (exclusive to the UK) has been newly re-mastered by Bill Inglot.
CD1 – Original Album
CD2 – Bonus Tracks