P&P Soul & Funk (Vinyl)
Various Artists
P&P Soul & Funk (Vinyl)
Various Artists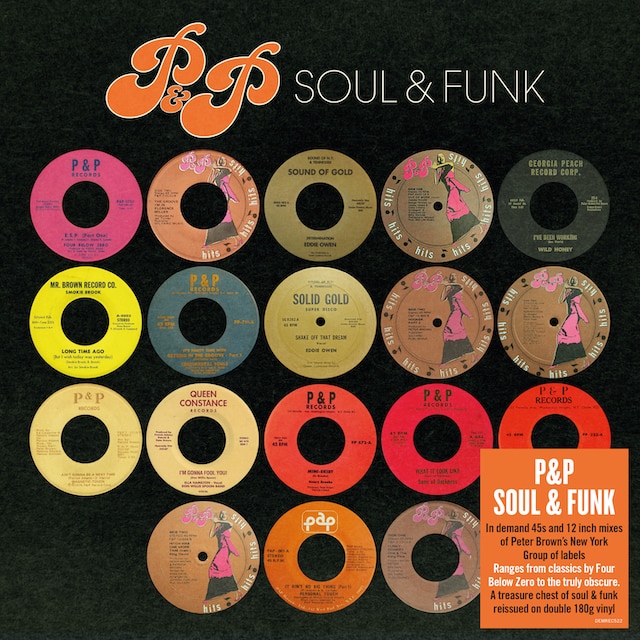 Release information
Release information
Label: Demon Records
• Format: Vinyl
• Date: 31/01/2020
Cat#: DEMREC522
• Barcode: 5014797900714
• Genre: Disco, Funk, R&B and Soul
Track Listing
Four Below Zero - E.S.P.
Florence Miller - The Groove I'm In
Personal Touch - Ain't No Big Thing (Part 1)
Jesse Gould - Out Of Work (Vocal)
Wild Honey - I've Been Working
Smokie Brook - Long Time Ago
Sentimental Souls - It's Party Time With Getting In The Groove - Part 1
Eddie Owen - Determination
Hooker - Hooker Part 1
Dennis Mobley - Superstition
Magnetic Touch - Ain't Gonna Be A Next Time
Ella Hamilton & Don Willis Spoon Band - I'm Gonna Fool You! (Vocal)
Eddie Owen - Shake Off That Dream - Disco
Sons of Darkness - What It Looks Like
Flame and the Sons of Darkness - Solid Funk
King David - Hitch Hike One More Time
Henry Brooks - Mini-Skirt
Otis & The King Pins - Funky Donkey
About this release
Peter Brown is one of the ultimate in Harlem underground music business entrepreneurs. From the 70s, all through the 80s he had a stream of releases on a plethora of labels, but ultimately under the P&P banner. From soul, to disco to the birth of hip hop, he covered all the street sounds of New York and in a series of comps Demon are exploring his legacy.
P&P soul and funk covers the 1970s with a number of rare, sought after masterpieces and some equally essential obscurities.
From the former category we have the magnificent ESP by Four Below Zero, Dennis Mobley's Rare Groove instrumental version of Superstition and Florence Miller's soul floor filler 'The Groove I'm In' Super rare funk is present from Wild Honey, Smokey Brooks and Flame & The Sons. The roots of disco is well represented with Magnetic Touch's original version of Ain't No Big Thing and Ella Hamilton's I'm Gonna Fool You.
Released on double 180g vinyl, if you bought the originals they would cost you many thousands of pounds.