Play To Win – The Virgin Albums (Coloured Vinyl)
Heaven 17
Play To Win – The Virgin Albums (Coloured Vinyl)
Heaven 17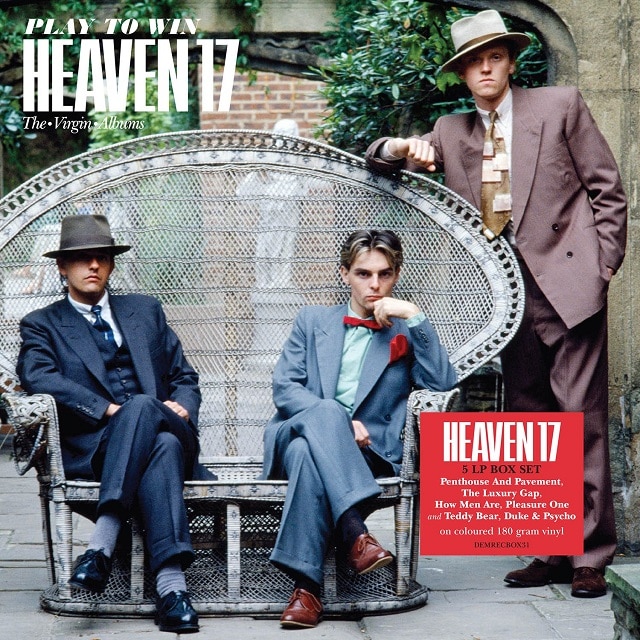 Release information
Release information
Label: Demon Records
• Format: Vinyl
• Date: 29/03/2019
Cat#: DEMRECBOX31
• Barcode: 5014797898813
• Genre: Pop
Sub Genre: Synth Pop
Track Listing
(We Don't Need This) Fascist Groove Thang
Penthouse And Pavement
Play To Win
Soul Warfare
Geisha Boys And Temple Girls
Let's All Make A Bomb
The Height Of The Fighting
Song With No Name
We're Going To Live For A Very Long Time
Crushed By The Wheels Of Industry
Who'll Stop The Rain
Let Me Go
Key To The World
Temptation
Come Live With Me
Lady Ice And Mr Hex
We Live So Fast
The Best Kept Secret
Five Minutes To Midnight
Sunset Now
This Is Mine
The Fuse
Shame Is On The Rocks
The Skin I'm In
Flamedown
Reputation
And That's No Lie
Contenders
Trouble
Somebody
If I Were You
Low Society
Red
Look At Me
Move Out
Free
Big Square People
Don't Stop For No One
Snake And Two People
Can You Hear Me?
Hot Blood
The Ballad Of Go Go Brown
Dangerous
I Set You Free
Train Of Love In Motion
Responsibility
About this release
Original members of Sheffield's Human League, Martyn Ware and Ian Craig Marsh left after the first two albums and formed Heaven 17 in 1980. Named after a fictional band in Anthony Burgess's "A Clockwork Orange", they recruited Glenn Gregory on vocals (who had been the original choice for lead singer of the Human League).
Signed to Virgin Records, debut single "(We Don't Need This) Fascist Groove Thang" attracted a lot of attention in March 1981, and a BBC Radio 1 ban. Debut album "Penthouse And Pavement" was released in September 1981 and was certified Gold the following year. Many more chart singles followed, including Top 5 hits "Temptation" and "Come Live With Me", taken from a further four albums – "The Luxury Gap" (1983), "How Men Are" (1984), "Pleasure One" (1986), and "Teddy Bear, Duke & Psycho" (1988).
This 5 LP set includes all five original albums that the band recorded for Virgin Records, housed in a rigid slipcase. The inner sleeves include all the lyrics and credits, while the albums are pressed on different coloured 180 gram vinyl.