Pick Of The Pieces: The Vinyl Collection SOLD OUT
Average White Band
Pick Of The Pieces: The Vinyl Collection SOLD OUT
Average White Band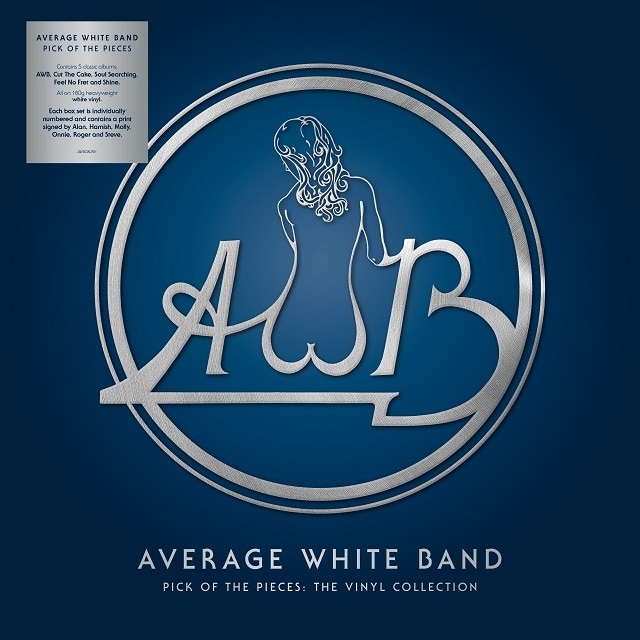 Release information
Release information
Label: Demon Records
• Format: Vinyl
• Date: 02/02/2018
Cat#: AWBOXLP01
• Barcode: 5014797896673
• Genre: Funk, R&B and Soul
Track Listing
You Got It
Got The Love
Pick Up The Pieces
Person To Person
Work To Do
Nothing You Can Do
Just Wanna Love You Tonight
Keepin' It To Myself
I Just Can't Give You Up
There's Always Someone Waiting
Cut The Cake
School Boy Crush
It's A Mystery
Groovin' The Night Away
If I Ever Lose This Heaven
Why
High Flyin' Woman
Cloudy
How Sweet Can You Get
When They Bring Down The Curtain
Overture
Love Your Life
I'm The One
A Love Of Your Own
Queen Of My Soul
Soul Searching
Goin' Home
Everybody's Darling
Would You Stay
Sunny Days (Make Me Think Of You)
Digging Deeper (Finale)
When Will You Be Mine
Please Don't Fall In Love
Walk On By
Feel No Fret
Stop The Rain
Atlantic Avenue
Ace Of Hearts
Too Late To Cry
Fire Burning
Our Time Has Come
For You, For Love
Let´s Go ´Round Again
Whatcha' Gonna Do For Me
Into The Night
Catch Me (Before I Have To Testify)
Help Is On The Way
If Love Only Lasts For One Night
Shine
Into The Night (Reprise)
About this release
Demon Records are pleased to announce Average White Band Pick Of The Pieces: The Vinyl Collection. This rigid slipcase houses 5 selected classic AWB albums.
Each title will be on white 180g heavyweight vinyl, with printed inner sleeves. Each box set is individually numbered and contains a print signed by Alan, Hamish, Molly, Onnie, Roger and Steve.
These five albums contain numerous hit songs including Pick Up The Pieces, Queen Of My Soul, Cut The Cake, and Let´s Go ´Round Again.
Recommended titles