In Philadelphia + Don't Knock My Love
Wilson Pickett
In Philadelphia + Don't Knock My Love
Wilson Pickett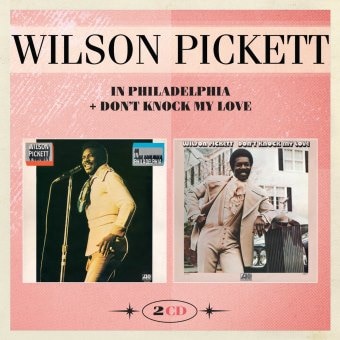 Release information
Release information
Label: Edsel
• Format: CD
• Date: 25/11/2016
Cat#: EDSK7112
• Barcode: 740155711238
• Genre: R&B and Soul, Rock
Sub Genre: Rock N' Roll
Track Listing
Run Joey Run
Help The Needy
Come Right Here
Bumble Bee (Sting Me)
Don't Let The Green Grass Fool You
Get Me Back On Time, Engine Number Nine
Days Go By
International Playboy
Ain't No Doubt About It
Don't Let The Green Grass Fool You [single edit]
Engine Number Nine [single edit]
International Playboy [remix]
Funky Broadway [live in Ghana]
Land Of 1000 Dances [live in Ghana]
Un' Avventura
Heaven
Can't Stop A Man In Love
One Step Away
Funk Factory
Fire And Water
(Your Love Has Brought Me) A Mighty Long Way
Covering The Same Old Ground
Don't Knock My Love [Part 1]
Don't Knock My Love [Part 2]
Call My Name, I'll Be There
Hot Love
Not Enough Love To Satisfy
You Can't Judge A Book By Its Cover
Pledging My Love
Mama Told Me Not To Come
Woman Let Me Be Down Home
Don't Knock My Love Part 2 [single version]
If You Need Me [remake]
Don't Forget The Bridge
Rock Of Ages
Many Roads To Travel
Hope She'll Be Happier
Believe I'll Shout
About this release
record "In Philadelphia". The album contained the hit singles "Engine No. 9" and the million-selling "Don't Let The Green Grass Fool You".
For "Don't Knock My Love" (1971), Pickett returned to Muscle Shoals Studios. The title track was his fifth and last R&B # 1 hit, another million-seller, and his cover of Free's "Fire And Water" reached R&B # 2. The cover of Randy Newman's "Mama Told Me Not To Come" was his last single on the Atlantic label.
The bonus tracks include some non-album singles sides and recordings from 1971 and 1972 that remained unreleased until a very limited edition box set in 2010. The booklet includes lengthy annotation by acknowledged expert Tony Rounce.