Paul Nicholas: Gold
Paul Nicholas
Paul Nicholas: Gold
Paul Nicholas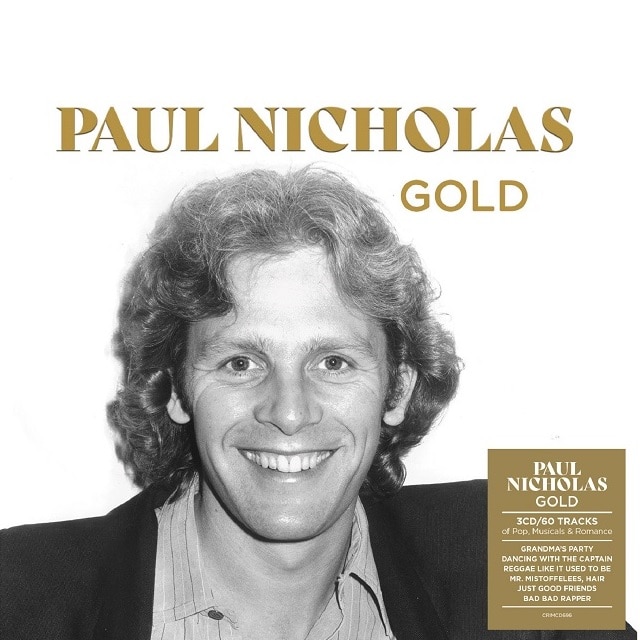 Release information
Release information
Label: Crimson Productions
• Format: CD, Digital
• Date: 22/10/2021
Cat#: CRIMCD696
• Barcode: 654378069628
• Genre: Pop
Track Listing
Grandma's Party - 7" Version [2021 Remaster]
Dancing With The Captain [2021 Remaster
Reggae Like It Used To Be [2021 Remaster]
Heaven On The 7th Floor [2021 Remaster
Only For A Minute [2021 Remaster]
On The Strip [2021 Remaster
Loveline [2021 Remaster]
Earthquake, Landslide, Hurricane [2021 Remaster]
Shooting Star
Sway [2021 Remaster]
Sunday [2021 Remaster]
Do You Want My Love [2021 Remaster]
I'm A Rock 'N' Roll Lover
Flat Foot Floyd [2021 Remaster]
The Rebel
Join My Gang - Oscar
Over The Wall We Go - Oscar
Club Of Lights - Oscar
Run Shaker Life
Lamp Lighter
Bad Bad Rapper
Colours Of My Life
Singin' In The Rain
Charlie Girl
My Favourite Occupation
All I Ask Of You - Paul Nicholas and Jacqueline Barron/RPO
Close Every Door
High Flying Adored
Music Of The Night
Sandy
Love On The Rocks
One Hand, One Heart
Mr. Mistoffelees - Original London Cast Recording/1981 - Andrew Lloyd Webber, "Cats" 1981 Original London Cast, Wayne Sleep & Paul Nicholas
Greased Lightnin'
Yesterday's Hero
Makin' It (from 'The World Is Full Of Married Men' - OST) [2021 Remaster]
Two Up Two Down (from the TV series)
Gethsemane (I Only Want To Say) - From 'Jesus Christ Superstar' (Original London Cast) - Andrew Lloyd Webber, Tim Rice & Paul Nicholas
Hair (Album Version) - Paul Nicholas, Oliver Tobias & Original London Cast
Eyes Look You Last / Ain't Got No / The Flesh Failures / Let The Sunshine In - Paul Nicholas & Original London Cast
Cousin Kevin
Just Good Friends
Air That I Breathe
If You Leave Me Now
Crazy For You
If You Were The Only Girl In The World [2021 Remaster]
Sometimes When We Touch
You Light Up My Life
Always A Woman To Me
Don't Wanna Go Home Alone
I'm Not In Love
Lady In Red
You Don't Bring Me Flowers
Behind The Smile
Precious Love
Ship Of Fools
Rock 'N' Roll My Heart
Elvis Lives
Song For Linzi
Right Here Waiting For You
About this release
Pop Star, Actor of Stage, Screen and Television, Songwriter, Producer, Paul Nicholas is a man of many talents. Gold is the definitive 3CD collection of Paul Nicholas illustrious career across his pop, movie, TV and musical theatre career.
Starting in the mid-1960s as Paul Dean, Paul Nicholas played the lead role as Jesus of Nazareth in Robert Stigwood's acclaimed 1972 Original London Cast Recording of JESUS CHRIST SUPERSTAR. In 1973 Paul starred as 'Danny' in GREASE before signing to Stigwood's RSO Records label, where he became a mainstay in the chart throughout 1976 with 4 top 40 hits including 'Reggae Like It Used To Be', 'Dancing With The Captain', 'Grandma's Party' and 'Heaven On The 7th Floor'.
Paul appeared in the movies STARDUST with David Essex and Adam Faith, TOMMY, as his vicious cousin, 'Kevin', and THE JAZZ SINGER with Neil Diamond. In his early roles on the small-screen, Paul co-starred as newly-wed 'Jimmy' in TWO UP, TWO DOWN with Su Pollard and as lovable 'Vince' in JUST GOOD FRIENDS with Jan Francis, with the most recently well-known role, as the evil 'Gavin' in EASTENDERS.
CD1: Contains Paul's UK and US hits including 'Grandma's Party', 'Dancing With The Captain' , 'Heaven On The 7th Floor' and 'Reggae Like It Used To Be'. Also contains three Oscar tracks including 'Over The Wall We Go' a lesser-known song written/produced by David Bowie and the Pete Townshend song 'Join My Gang'. His wonderful rendition of 'Run, Shaker Life' made famous by Richie Havens a version of Dollar's 'Shooting Star', which was tucked-away as a 1979 B-side and to reprise his menacing 'Gavin' role, the new tongue-in-cheek Single 'Bad, Bad Rapper'.
CD2: A collection of Paul's stage, screen and TV performances including JESUS CHRIST SUPERSTAR, HAIR and CATS, as well as recordings from the musicals/TV programmes/movies, in which he appeared and songs that he wanted to record.
CD3: This CD showcases Paul's romantic side, including many tracks from his 1986 Top 30 album, JUST GOOD FRIENDS, along with more recent love songs and previously unreleased recordings.