Packed!
Pretenders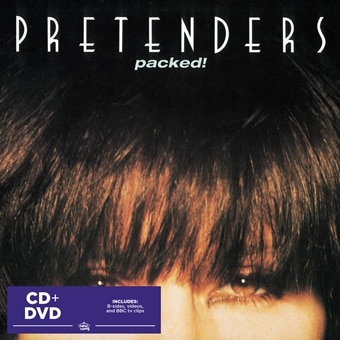 Release information
Release information
Label: Edsel
• Format: CD,
• Date: 16/02/2015
Cat#: EDSX3022
• Barcode: 740155302238
• Genre: Pop, Rock
Sub Genre: New Wave, Punk
Track Listing
Never Do That
Let's Make A Pact
Millionaires
May This Be Love
No Guarantee
When Will I See You?
Sense Of Purpose
Downtown (Akron)
How Do I Miss You?
Hold A Candle To This
Criminal
Not A Second Time
Spirit Of Life
Never Do That
Sense Of Purpose
Never Do That [Wogan, June 1990]
Millionaires [The Late Show, June 1990]
Criminal [The Late Show, June 1990]
About this release
Produced by Mitchell Froom. fifth album "Packed!" appeared in May 1990 with Billy Bremner back on lead guitar. Only two singles were issued from the album – "Never Do That" and "Sense Of Purpose", neither of which charted in the UK, mystifyingly.
The two b-sides (one a cover of the Beatles' "Not A Second Time") are featured here, while the DVD features the two rarely-seen promo videos, along with three BBC TV appearances from Wogan and The Late Show. The booklet in this digipak edition features all the lyrics, the singles sleeves and photos.
CD – Packed! (tracks 1-11), B-Sides (tracks 12-13)
DVD – Promo Videos (tracks 1-2), BBC TV Appearances (tracks 3-5)
Extra information about this release