Northern Soul Anthems (Vinyl)
Various Artists
Northern Soul Anthems (Vinyl)
Various Artists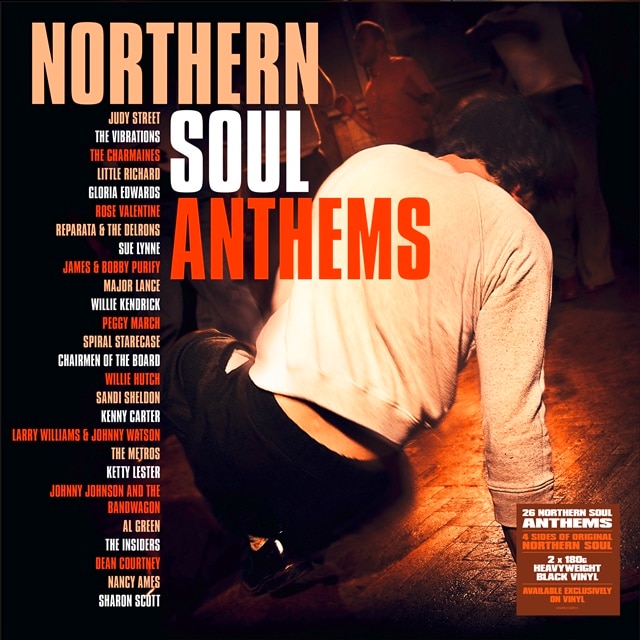 Release information
Release information
Label: Demon Records
• Format: Vinyl
• Date: 01/06/2018
Cat#: DEMRECOMP011
• Barcode: 5014797896925
• Genre: R&B and Soul
Sub Genre: Northern Soul
Track Listing
Judy Street - What
The Vibrations - Gonna Get Along Without You Now
The Charmaines - Eternally
Little Richard - I Don't Want to Discuss It
Gloria Edwards - Lonely Girl
Rose Valentine - I've Gotta Know Right Now
Reparata & The Delrons - Panic
Sue Lynne - Don't Pity Me
James & Bobby Purify - Shake a Tail Feather
Major Lance - Ain't No Soul (In These Old Shoes)
Willie Kendrick - You Can't Bypass Love
Peggy March - If You Loved Me
Spiral Starecase - More Today Than Yesterday
Chairmen Of The Board - (You Got Me) Danglin' On a String
Willie Hutch - Lucky to Be Loved by You
Sandi Sheldon - You're Gonna Make Me Love You
Kenny Carter - What's That On Your Finger
Larry Williams & Johnny Watson - Too Late
The Metros - I'll Never Forget You
Ketty Lester - Some Things Are Better Left Unsaid
Johnny Johnson And The Bandwagon - (Blame It) On The Pony Express
Al Green - Don't Leave Me
The Insiders - I'm Just A Man
Dean Courtney - I'll Always Need You
Nancy Ames - I Don't Want to Talk About It
Sharon Scott - It's Better
About this release
Northern Soul Anthems features 26 classic Northern Soul tracks pressed on 2x 180G heavyweight black vinyl.
Housed in gatefold sleeve with original photography from filmmaker Elaine Constantine.
Defining Northern Soul Anthems from Judy Street, Al Green, Sue Lynne, Chairmen Of The Board, The Vibrations, Little Richard, The Charmaines, Willie Kendrick, Gloria Edwards + more.
Extra information about this release
Recommended titles