Nilsson – Gold
Nilsson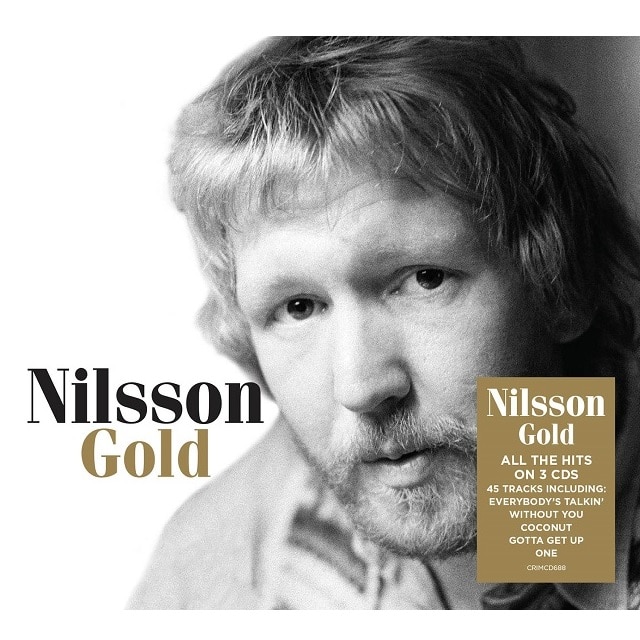 Release information
Release information
Label: Crimson Productions
• Format: CD
• Date: 19/02/2021
Cat#: CRIMCD688
• Barcode: 654378068829
• Genre: Pop, Rock
Track Listing
Everybody's Talkin' [From "Midnight Cowboy"]
One
Ten Little Indians
1941
Cuddly Toy
She Sang Hymns Out Of Tune
You Can't Do That
Without Her
Daddy's Song
Good Old Desk
The Puppy Song
I Guess The Lord Must Be In New York City
Rainmaker [single mix]
Simon Smith And His Amazing Dancing Bear
I Will Take You There [single mix]
Without You
Coconut
Gotta Get Up
Early In The Morning
Jump Into The Fire
Love Story
I'll Be Home
So Long Dad
Me And My Arrow
Think About Your Troubles
Life Line
Spaceman
Campo De Encino
Daybreak [single version]
Subterranean Homesick Blues
Save The Last Dance For Me
It Had To Be You
Always
Makin' Whoopee
What'll I Do
As Time Goes By
Over The Rainbow
Don't Forget Me
Kojak Columbo
Pretty Soon There'll Be Nothing Left For Everybody
Thursday Or, Here's Why I Did Not Go To Work Today
That Is All
Sail Away
All I Think About Is You
Perfect Day
About this release
Harry Nilsson earned his place in music history not only as a songwriter but as matchless interpreter of other people's songs. His two signature songs were cover versions – Fred Neil's "Everybody's Talkin'" and Badfinger's "Without You" – but his own compositions were covered by The Monkees, Glen Campbell, Blood Sweat & Tears, Three Dog Night and many more. Early composition "One" was the soundtrack to a Unison advert in 2011.
"Without You" was on his most successful album, "Nilsson Schmilsson" (1971), which also featured "Coconut" and "Gotta Get Up" (now played repeatedly in the Netflix series "Russian Doll"), both included here. He followed this with "A Little Touch Of Schmilsson In The Night", an album of covers of standards like "As Time Goes By", "It Had To Be You" and "Makin' Whoopee" (with arrangements by Sinatra's arranger Gordon Jenkins), all included here.
Produced by John Lennon, the "Pussycats" album saw Nilsson covering "Subterranean Homesick Blues" and "Save The Last Dance For Me". He had already paid his respects to Randy Newman with a whole album of covers, but had hits with his own "I Guess The Lord Must Be In New York City", "I Will Take You There" and "All I Think About Is You".
This unique 45-track, 3 CD set includes all the above songs and many more.