New Boots & Panties!! (Vinyl Deluxe 2LP)
Ian Dury
New Boots & Panties!! (Vinyl Deluxe 2LP)
Ian Dury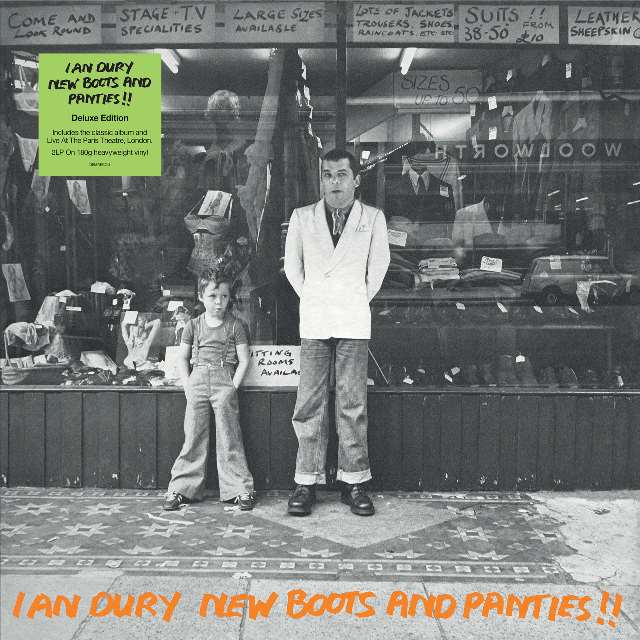 Release information
Release information
Label: Demon Records
• Format: Vinyl
• Date: 16/03/2018
Cat#: DEMREC241
• Barcode: 5014797896598
• Genre: Rock
Sub Genre: Punk
Track Listing
Wake Up And Make Love With Me
Sweet Gene Vincent
I'm Partial To Your Abracadabra
My Old Man
Billericay Dickie
Clevor Trever
If I Was With A Woman
Blockheads
Plaistow Patricia
Blackmail Man
Sex & Drugs & Rock & Roll
Wake Up And Make Love With Me
Clevor Trever
If I Was With A Woman
Blockheads
Plaistow Patricia
Blackmail Man
About this release
"New Boots And Panties!!" remains an iconic album 40  years after its release.
It's often cited as one of the first classic UK punk albums, the record covers a diverse range of musical styles reflecting Dury's influences and background in pub rock, taking in funk, disco, British music hall and early rock and roll. It's considered Dury's best album and it was also his most successful after it was certified Platinum in the UK 2 years after its release.
Packaged as a double-LP gatefold with printed inner sleeves with lyrics, on heavyweight vinyl. This double LP contains the classic album along with a bonus LP of a BBC live performance at the Paris Theatre in London from 1978.
Recommended titles