New Boots And Panties!! 40th Anniversary Edition
Ian Dury
New Boots And Panties!! 40th Anniversary Edition
Ian Dury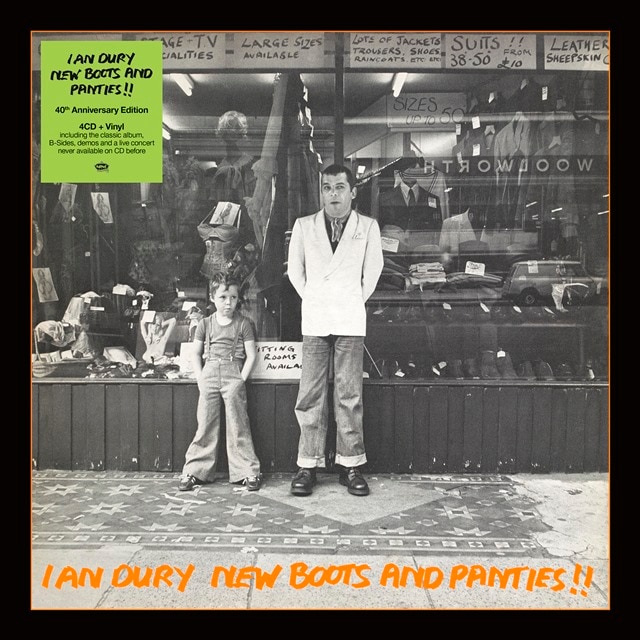 Release information
Release information
Label: Edsel
• Format: CD, Vinyl, Digital
• Date: 27/10/2017
Cat#: NBAPBOX01
• Barcode: 5014797896437
• Genre: Rock
Sub Genre: Punk
Track Listing
Wake Up And Make Love With Me
Sweet Gene Vincent
I'm Partial To Your Abracadabra
My Old Man
Billericay Dickie
Clevor Trever
If I Was With A Woman
Blockheads
Plaistow Patricia
Blackmail Man
Sex & Drugs & Rock & Roll
Razzle In My Pocket
You're More Than Fair
England's Glory [live]
Close To Home
Two Steep Hills
Sex & Drugs & Rock & Roll (BBC John Peel Session 12/12/1977)
Clevor Trever (BBC John Peel Session 12/12/1977)
Sweet Gene Vincent (BBC John Peel Session 12/12/1977)
Blockheads (BBC John Peel Session 12/12/1977)
Wake Up And Make Love With Me (Demo)
Sink My Boats (Demo)
Apples (Demo)
England's Glory (Demo)
Tell The Children (Demo)
I Made Mary Cry (Demo)
Sweet Gene Vincent [backing track] (Demo)
Blackmail Man (Demo)
My Old Man (Demo)
Something's Going To Happen In The Winter (Demo)
Wifey (Demo)
Sink My Boats [alternate version] (Demo)
I'm Partial To Your Abracadabra (Demo)
If I Was With A Woman (Demo)
Sex & Drugs & Rock & Roll (Demo)
Clevor Trever (Demo)
Blockheads (Demo)
Sex & Drugs And Rock And Roll (Live)
Wake Up And Make Love With Me (Live)
Clevor Trever (Live)
Plaistow Patricia (Live)
I Made Mary Cry (Live)
What A Waste (Live)
Blockheads (Live)
If I Was With A Woman (Live)
Upminster Kid (Live)
Sweet Gene Vincent (Live)
Sex & Drugs And Rock And Roll (Live)
Wake Up And Make Love With Me
Sweet Gene Vincent
I'm Partial To Your Abracadabra
My Old Man
Billericay Dickie
Clevor Trever
If I Was With A Woman
Blockheads
Plaistow Patricia
Blackmail Man
About this release
Ian Dury, like Ray Davies and Paul Weller was a very English talent. The colourful, metropolis inhabiting characters like Billericay Dickie or Plaistow Patricia he sung about and the ever so cockney music hall accent he chose to sing in were a big part of that. But most of all it was the detailed, poetic way he catalogued English life and the melting pot of musical styles used to do so, from punk to funk to jazz and rock 'n' roll, which left the listener in no doubt that Dury's work could only come from one place: The very heart of England.
New Boots And Panties!! Was the debut album for Ian Dury, originally released on Stiff Records in 1977. It's often cited as one of the first classic UK punk albums, the record covers a diverse range of musical styles reflecting Dury's influences and background in pub rock, taking in funk, disco, British music hall and early rock and roll. It's considered Dury's best album and it was also his most successful after it was certified Platinum in the UK 2 years after its release. Packaged in a 12×12 hardcover book, this is the most comprehensive version of the album to date.
A 12×12 hardcover book containing 4CDs, the original album on vinyl, and a pull out 8 page booklet.
Sleeve notes by Comedian and close friend, Phill Jupitus. A regular guest on TV panel shows, radio broadcast, and currently touring a new stand-up show.
This package contains the hit singles Sex & Drugs & Rock & Roll, and Sweet Gene Vincent.
Alongside the original album there are 3 bonus discs containing Bonus Tracks, Demo Versions, John Peel Sessions and a full live performance not available before on CD.
Extra information about this release