New Boots And Panties!! 30th Anniversary Edition (CD+DVD)
Ian Dury
New Boots And Panties!! 30th Anniversary Edition (CD+DVD)
Ian Dury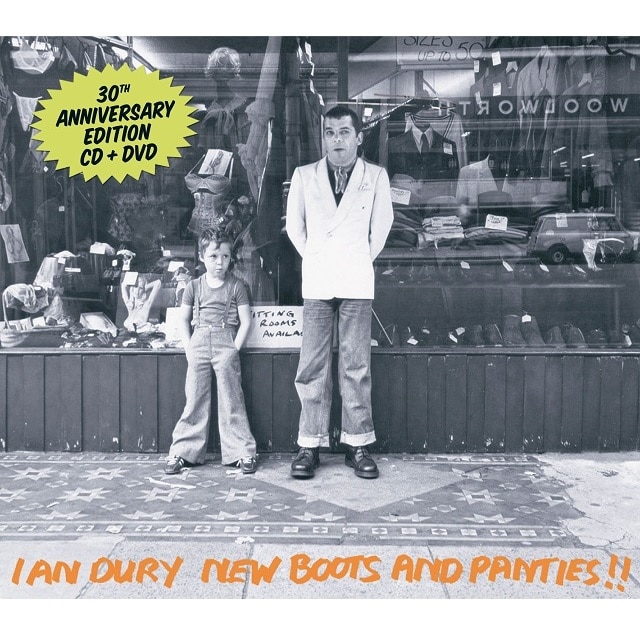 Release information
Release information
Label: Edsel
• Format: CD
• Date: 26/11/2007
Cat#: EDSX3001
• Barcode: 740155300135
• Genre: Rock
Sub Genre: Punk
Track Listing
Wake Up And Make Love With Me
Sweet Gene Vincent
I'm Partial To Your Abracadabra
My Old Man
Billericay Dickie
Clevor Trever
If I Was With A Woman
Blockheads
Plaistow Patricia
Blackmail Man
Sex & Drugs & Rock & Roll
Razzle In My Pocket
Close To Home
Two Steep Hills
Sex & Drugs & Rock & Roll
I'm Partial To Your Abracadabra
Wake Up And Make Love With Me
Clevor Trever
Billericay Dickie
Sweet Gene Vincent
Blockheads
About this release
Thirty years after its release, Ian Dury's first album released under his own name remains an undisputed
and timeless classic. Uniquely, every song on the album is known and celebrated as though they were all
released as singles.
Accompanying the album was the single "Sex & Drugs & Rock & Roll" (included here with its b-side), a song title so well-known that it is included in the Oxford English Dictionary, along with several other Dury song titles and phrases.
Also included here (for the first time on CD) are two bonus Dury rarities: "Close To Home" (recorded in 1977) has only ever been issued on an NME cassette in 1981, and "Two Steep Hills", only ever issued on the b-side of an extremely limited NME competition winners 7" release.
And now on DVD (and for the first time on any format), fans can watch the spectacle of Ian and the Blockheads romping through the album's highlights live at Queen Mary's College in Mile End, London on 10th December 1977 for the BBC's fondly-remembered "Sight And Sound In Concert" series.
Recorded soon after the famed "Live Stiffs" package tour of Autumn 1977, this concert captures one of the most exhilarating live bands ever at the peak of their game.